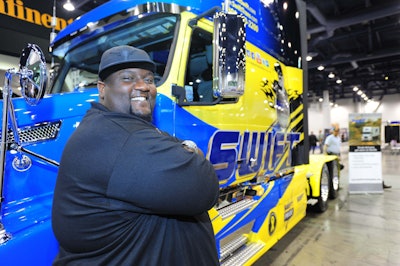 Rick Sylvester (pictured) started making videos at his hometown church in Houston about five years ago. From there, he says, his online productions "just took off."
Shortly after he started his trucking career, Sylvester launched a YouTube channel documenting his first year and a half as a driver, shooting, editing and posting his own videos about trucking school and time on the road. Today, that channel has more than 600 subscribers, and he has attracted upwards of 2,000 viewers from some of his most popular talks, such as a helpful how-to on pre-trips in the middle of a winter storm and a guide to making gumbo.
The rookie driver took on the online handle Big Cat Trucker, and his popularity online landed him a training role with his company, Swift, teaching and helping retain new drivers in cross-country hauls. The 2010 Great West Truck Show, ongoing from yesterday, Thursday, June 17, through Saturday the 19th, is the first industry event Big Cat is attending in his mentoring role, offering advice and listening to drivers at Swift Transportation's Booth #2119 today and Saturday.
"There wasn't a lot of stuff on the Internet for new drivers to find out how it's going to be in school, on the road, at truck stops, whatever," he says. "That's what I was looking for when I started."
He's also showing off his new ride – a tricked-out office on wheels. Sylvester's fleet added new rims, tires and chrome to the truck and wrapped it with the "Big Cat Trucker Show" logo and contact details. –James Jaillet / Photo by Bruce W. Smith