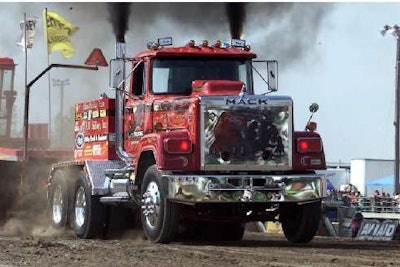 The team behind Mobil Delvac heavy duty diesel engine oil will sponsor the 35th annual Budweiser Dairyland Super National Truck and Tractor Pull, June 24-27 in Tomah, Wis. The event boasts six sessions of action-packed pulling over the course of the four days, and it's one of the largest motorsports events in the Midwest.
This year's competition is the only event on the National Tractor Pullers Association circuit that hosts all twelve divisions of super national competition, with each division hooking twice. The event draws tens of thousands of people from the United States and abroad as well as quite extensive TV coverage, and if you've ever been, you know the excitement it can entail. Tickets to the event can be had for $115 general admission for the entire four days, a $320 camping pass including general admission plus an electric campsite for the entirety. Single-day pass prices include $22 for Thursday and Sunday sessions and $84 for Friday and Saturday's extended sessions. Click here for more details.
As for Mobil Delvac's involvement? "The fans and competitors that annually drive hundreds of miles to enjoy this event with their families are hard working Americans who rely on diesel engine trucks and equipment to make their living," said Marci Crigger, lubricants marketing advisor, ExxonMobil Lubricants & Petroleum Specialties Company, a division of Exxon Mobil Corporation. "We are proud to show our appreciation for the fans of this sport by sponsoring the 2010 Budweiser Dairyland Super National Truck & Tractor Pull." Visit www.mobildelvac.com.