Carlile Transportation driver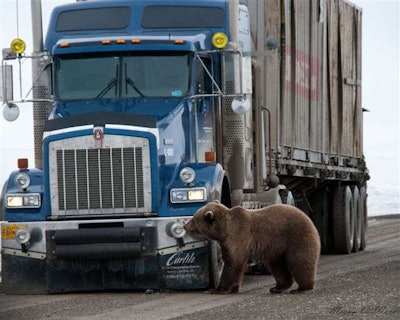 Jim "J.D." Dobbs sees "a lot of wildlife" on somewhat regular runs on the Dalton Highway in Alaska to and from the Prudhoe Bay oil fields. "Moose, caribou, things of that nature," he says. "Some are close calls – when you come over a hill on the way to Prudhoe Bay and a large herd of caribou may be crossing the road, for instance." But whoa, right? Dobbs describes the experience pictured here as "once in the lifetime," in spite of the relatively common bear sightings in Alaska.
"We were about 12 miles outside of Dead Horse on the Dalton Highway," he says, "on the way to Prudhoe Bay. There were a couple vehicles sitting there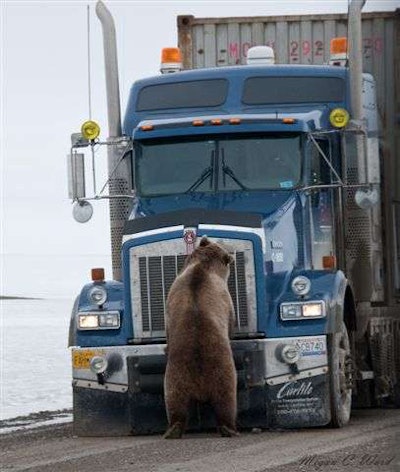 in front of me, pickup trucks. There was this bear way out off the road, digging, and it was pretty excited about digging, so I pulled up there and stopped and waited for a second — people were taking pictures and such. In Alaska on the Haul Road you're not supposed to do anything to the animals to interfere with them — so I stopped and turned the truck off, just enjoying the view. When you're sitting in the vehicle and you're such a distance away it's not very much of a threat — and then the bear looked over and started straight toward us."
Dobbs made sure to roll up his window as the bear picked his Carlile Transportation rig out of lineup of parked vehicles and ambled over. "It disappeared then under the front of my truck," he says, "and then I looked down out of my window and the bear was standing there looking at me. It went down around the front of the my truck," disappearing again before standing and looking at Dobbs over the bug screen.
Why did he pick out Dobbs? "He could smell the bugs and such on the radiator is the only thing I can think of," Dobbs says. "It was a pretty nervous situation with a bear that big. He could rip your door right off or break your window, easy."
Dobbs has been driving for decades, after starting in the Air Force at age 17. He got his first commercial transport job in Nevada in 1979, and he's lived in Alaska throughout most of the subsequent years, driving for Carlile for the past 13.
Overdrive Editor Max Heine rode with Dobbs' former Carlile colleague George Spears in 2006. Read the end result here.
UPDATE: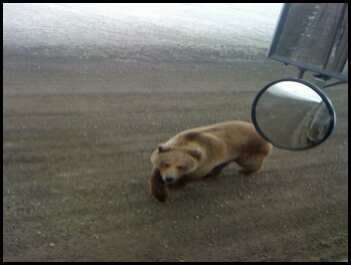 Today, Jim Dobbs sent in the pic at left, taken from his iPhone on the day in question, giving the up-close-and-personal view from his driver-side window as the bear made its way around the front of the Kenworth.