In July, Truckers News, via its photo group on Flickr.com, is embarking on a new monthly series of photo contests — the winner will have his/her photo published in the magazine and will receive an instructional book on photography. Each contest will be themed, so it may require a little looking around/searching — I'm posting this early on so you can get to scanning the horizon for some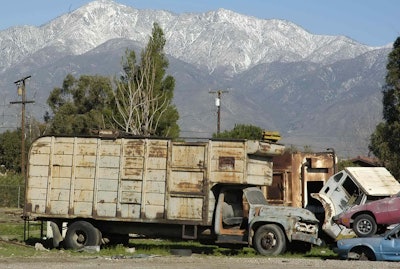 scenes including JUNKED or FORGOTTEN TRUCKS/TRAILERS, such as the example included here, which I caught out in Fontana in a salvage yard near the NASCAR track way back in 2007.
For the first month and possible longer, in addition to photo publication, the prize will be an excellent tome to help out in evening downtime: "Creative Night: Digital Photography Tips & Techniques," by Harold Davis, well-known for his experimental and vibrant realistic night landscapes, among other things.
TO ENTER:
1. Post your appropriately themed, high-resolution (around 1,500 by 900 pixels, at the very least, will be needed to be included in the magazine) photo to the group's pool.
2. Send an email with your first and last names, location and your trucking business' profile in brief (who you drive for or whether you run on your own authority as an owner-operator, are leased, and/or etc.) to me at tdills@rrpub.com — include "photo contest" in the subject line and a link to the original Flickr location of your entered picture as well.
Winners will not be eligible to win again for six months are up, but I'd encourage all group members to shoot to the theme if you can — a little competition always inspires a little extra creativity, in the end, and it'll give group gawkers a little extra fun.
In any case, looking forward here to the first one. If you're a photographer on the trucking road and haven't joined the group, you might do so now here.
You can start posting contest entries July 1. I'll likely post again before the fact, though. And in the meantime, happy hauling, and shooting!