Among drive-image-building efforts that are decades-long institutions are the yearly state truck-driving championships, which in 2010 will culminate in the final national competition Aug. 3-7 at the Greater Columbus Convention Center. The efficacy of the championships in the image arena was on full display in this story, published Sunday in the Springfield, Mo., News-Leader, about that state's own championships, held on a driving course on the headquarters campus of Prime. I got the chance to visit the carrier last December as I interviewed Overdrive's Trucker of the Year for 2010, Prime-leased owner-operator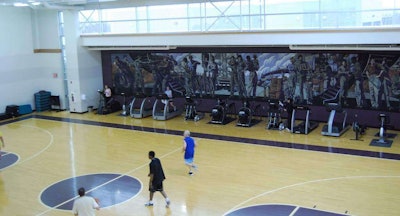 Mike "Mustang" Crawford. I thought I'd share just a couple pictures here of the facility, such as this one of the basketball court where company president Robert Low daily joins drivers and other personnel for an early-afternoon game.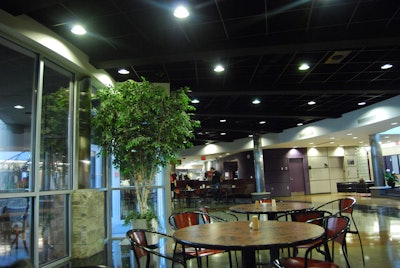 This is all in the quite nice drivers' building on the Prime campus, complete with all manner of weight- and fitness-training equipment, spa services for employees and their families, an eating area that resembles a dining area in a nice mall (also pictured) and more.
As for the championships, results have yet to be released, but keep an eye on eTrucker.com for them (I'll post in the comments here when I have them).