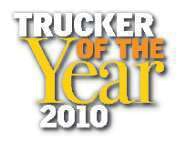 A former cowhand, U.S. Marine, policeman and firefighter, Prime's Mike "Mustang" Crawford tames the open road, coaches new drivers and helps his wife care for critters on their Missouri ranch.
Long Lane, Mo., resident Mike Crawford's gifts as a storyteller and conversationalist have served him well since 1994, when he took the wheel of the new Freightliner FLD he still owns. He set off with his wife, Phyllis, bobtailing in pursuit of the truck's first load in Columbia, Mo. When Phyllis asked how fast they were going, he wasn't sure.
"I'd never been in a truck for anybody that would go faster than 65," says Crawford, or "Mustang," as he's more commonly known. His new rig was so "comfortable and smooth riding" he and Phyllis were surprised to discover he was going 70 mph.
Next thing he knew, a Missouri state patrolman had pulled him over. After a long conversation, ranging from cattle prices to Crawford's lease-purchase of the FLD with Prime Inc., followed by a brief warning, he was on his way.
Crawford, who remains leased to Springfield, Mo.-based Prime, is eager to talk with anyone who'll listen. But since that day, he's learned to pay close attention to the speedometer and has logged 2.5 million safe miles behind its wheel.
He's one of four senior Prime owner-operators on a call list given to new hires and newly leased owner-operators seeking advice from veterans, a list Crawford was instrumental in implementing. Add to this Driver of the Month awards from Prime and others (one from the Missouri Trucking Association), and Crawford's unflagging honesty, commitment to hard work and acute sense for the needs of his business and it's not hard to see why he is Overdrive's 2010 Trucker of the Year.
In the mid-'90s, "the first time I met him, I realized he was a true character," says Prime Safety Director Don Lacy, who became better acquainted with Crawford when the two were regular guests on the Sirius Loading Dock morning show during 2006-'07. (It's now the Open Road Café on Sirius XM Channel 147.)
Host Mark Willis recalls Crawford being "a superb storyteller and one of the safest drivers out there on the road. He always had a kind word to say about people, no matter what the topic we might have been discussing. We looked forward to his call, usually early in the morning, because it got the day off to a good start."
But Lacy believes Crawford's contribution to the show was not style, but substance – the information owner-operators need to run their businesses. "He was always adamant on the show about running on time, taking care of your equipment, approaching the customer the right way," Lacy says.
"One of the things I love most in this world," Crawford says, "is making people laugh." For customers, Crawford's made an art of disarming a new face with humor, and winning hearts with hard work and dependability. His philosophy: "The customer is No. 1," he says, "whether the shipper or the receiver. Prime, then, is No. 2. My family is No. 3, and I'm No. 4. If you don't have the customer paying, you don't have the trucking industry."
And this industry, Crawford notes, has made it possible for him to achieve impressive net income in recent years – about $100,000 in 2007 and '08, just shy of that in '09 – hauling flatbed freight with a concentration in glass, steel coils and pipe. He attributes his success not just to his personal acumen, but to his involvement with a company that values its owner-operators as partners. "All the way up to Robert Low, Prime's owner, there is no one person any more important than any other," he says.
Crawford roams with pride through the company's state-of-the-art driver facility in Springfield, a sort of cross between a health club and shopping mall. It offers owner-operators, employees and their families a basketball court, full-service weight room and workout area, showers, massage and spa parlors, post office, a doctor's office and more.
Crawford's 97-acre, aptly named Odd Acres Ranch in rural Long Lane includes three horses, a mule and five donkeys, Goober the turkey, geese and ducks; a former blacksmith's shop built in the 1870s; and a farmhouse built in the 1940s. He lives there with Phyllis – the backbone of his business and home life.
"I can show you the fence that she's done," Crawford says. "I can show you her three chainsaws. I'll show you what used to be wooded land and such that she cleared. I have a wife who takes care of this place, takes care of her grandkids, takes care of me, and without her, I'd be nothing."
They met in 1963 at a movie theater in St. Louis and later married. After time in the Marines, Crawford worked as a policeman. During his next job, as a fireman in St. Louis, Phyllis saw him "on the news being dragged from a burning building" and recommended a move to Colorado, where she had family.
They moved in the early 1980s, living first with Phyllis' sister Becky in Fort Collins, where Crawford landed a job hauling reefer freight as a company driver. But being more the "outdoorsman type," he says, he found work on Carl Judson's Phantom Canyon Ranch north of Livermore, Colo. "Part of that ranch is in one of Louis L'Amour's books, 'The Cherokee Trail,' " he says of his favorite author. "I've read every one, some two or three times."
Working the cattle on the 54,000-acre property atop a horse, Lady, that he still owns, was a dream come true for Crawford. When on the job, he lived near an old stagecoach stop, while the family had a house in Fort Collins.
After Judson sold most of the acreage to developers, Crawford decided to leave. With their children grown and "back in Missouri," Phyllis says, she and Crawford considered moving closer to their roots and family. The family explored the potential for a cowboying job in the Show Me State with no luck.
"We did eventually find this place," he says of the ranch he lives on today, selling everything they could spare for the down payment.
He tried driving again, this time for Waste Management. That ended when a hydraulic piston burst and injured him. After knee surgery, he worked for a swimming pool company, cut firewood – did everything he could to keep up with the mortgage on his land. "The Jehovah's Witnesses always say that heaven is going to be here on earth – well, it was already here for me," he says.
Next he went to work for Springfield-based Steelman Transportation as a company driver. He got paid 25 percent of every platform load, making $400-$500 a week. His work ethic quickly made him one of the top five producers within just a few weeks, he says.
Then fate intervened. While on a long driveway into a steel facility in Utah, he noticed a winch that had dropped from another truck's trailer. He picked up the equipment, the first piece of trucking gear that he could call his own. He told himself, "I wish I had my own truck to go with this."
Days later, he ran into a Prime owner-operator in the flatbed division. "He told me the kind of money he made," Crawford says. "So I went on toward home and, along the way, drove by Prime to see about working there. Their standards were tougher for hiring than most – they were a little more finicky." At issue, mainly, were the many different jobs he'd held since his cowboying days.
Said Crawford: "Just give me a chance."
They put him on as a company driver in the flatbed division in a test-run for potentially lease-purchasing a truck and contracting as an owner-operator – "which means I got paid 19 cents a mile but was allowed to see what I could make as a leased operator," says Crawford.
He soon proved his productivity and got his choice of trucks. He entered a lease-purchase of a 1994 Freightliner FLD 48-inch flat-top. He says he's spent less than $20,000 on repairs in 16 years. In 2007, he got curious about how long he could expect its injectors to run and called Detroit Diesel. They outfitted the truck with a new set – $3,000 worth of parts and labor, he says – free of charge and took the old ones for analysis.
He attributes the truck and powertrain's longevity to good driving practices, staying off the accelerator and limiting idling. He stuck to the speed limit for years, but when diesel shot past $4 a gallon, "I changed my handle from Mustang to Plow Horse," says Crawford. "I'm safe at 70 mph, but I'm even safer at 57," which is where he keeps the speedometer on most roads.
Phyllis attributes her husband's success to things less tangible: his love of trucking "combined with the fact that he can pretty much be his own boss," she says. "I'm proud of him, too, for what he does, and happy he's able to do something he so really enjoys." n
And then there were two
Crawford recalls a day in 2002 when he had managed to get his malfunctioning pocketwatch to start running again.
That same day, he learned his close friend, Prime driver Gene Pace, was seriously injured in an accident caused by a shifted load of glass. Crawford, Pace and Russell Gookin were known as the "three amigos" to company staff on account of their close relationships.
Later the Prime flatbed director called to ask if he knew how to get in touch with Gene's family. "And I said, 'So Gene's dead.' And he said, 'Yeah, who told you?' And I said, 'Well, I just felt it.' I looked at my pocketwatch again, and it had stopped running around the time he got killed."
Though Crawford describes himself as a fairly emotional man, "I never cried when Gene died. Gene and I both have a very deep faith, and I knew where he was."
2010 Trucker of the Year prizes
• A cap, travel mug and other items from Alliance Parts
• Eight truck tires from Bridgestone Bandag Tire Solutions
• A seat from Bostrom Seats
• Two steer tires from Continental Tires
• A case of fuel additive from Diesel Power
• A bomber jacket, T-shirt and hat from ExxonMobil
• A Gerber tool, flashlight, road atlas, hat and work gloves from Freightliner Trucks
• A case of Meaner Power Kleaner, two cases of Diesel Treat, a hat, jacket, hoodie, and other items from Howe's
• A limited edition Lonestar leather jacket from International Trucks
• A leather jacket from Mack Trucks
• All-expense-paid trips to the Great American Trucking Show in Dallas, and a trip anywhere in the continental United States, with $1,000 from Overdrive
• Overdrive Top Ten Countdown CD each week
• Overdrive Trucking News CD every two weeks and an interview with host Larry Shannon
• Rand McNally 2010 Deluxe Motor Carriers Road Atlas
• Gifts from Volvo