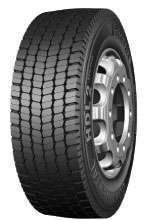 Low profile tires
HSL2 Eco Plus and HDL2 Eco Plus truck tires offer additional carrying capacity with low profiles. Treads are engineered for long wear and low rolling resistance, the company says. Both are 3 inches shorter than the 275/80R22.5 sizes, but each has 1,215 more pounds of carrying capacity. The HDL2 Eco Plus features a tread design with an arrow-shaped directional pattern, and the HSL2 Eco Plus tire has wide shoulder ribs and narrow tread grooves.
CONTINENTAL, continental-tire.com,
(704) 583-8564, ENTER 150

Drivetrain protectors
Installing the Power Train Savers in the drive shaft will protect the drivetrain from over-torque damage that can affect differentials, gears, axles and drive shafts. Power Train Savers feature torque fuses that are engineered and calibrated to shear just prior to the powertrain breaking point and can be replaced to get the vehicle up and running again, the company says. Power Train Savers were developed for trucks and off-highway vehicles that experience over-torque and drivetrain damage resulting from heavy loads on rough, uneven or slippery terrain.
SONNAX, www.powertrainsavers.com, (800) 843-2600, ENTER 153

Collector cards and books
Super Trucks limited edition collector cards are available at CAT Scale locations. Series Ten contains 60 cards to be distributed on CAT Scale tickets through fall 2010, featuring a mix of antique and newer model trucks. Each time a driver weighs on a CAT Scale, he or she automatically receives a collector card attached to the scale ticket. Collector books with plastic sleeves to hold the complete set are available.
CAT SCALE, www.catscale.com, (563) 468-5216, ENTER 151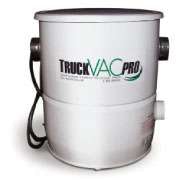 On-board vacuum
The 110-volt, on-board vacuum system includes a lightweight, compact canister that mounts under the sleeper bed. It delivers more than 450 airwatts. The vacuum uses 10.2 amps of power and includes a 12.5-foot hose, various attachments, an attachment storage bag and installation hardware. The hose attaches to the switched wall plate for operation. The system can be moved from truck to truck. The vacuum includes a 3-year motor warranty and lifetime canister warranty.
TRUCKVAC PRO, www.truckvacpro.com, (615) 513-3492, ENTER 152

Engine treatment
Super Lubricants engine treatment and booster system is designed to protect gas and diesel engines from friction and heat, the company says. Engine treatment is formulated with Prolong's Anti-Friction Metal Treatment to help prevent metal-on-metal grinding. The engine treatment is poured directly into 4- to 5-quart engine crankcases and is recommended for use as part of or in between oil changes. For more protection, Prolong offers an 8 oz. Engine Treatment Booster that can be used during each oil change. Prolong products do not alter the viscosity of the motor oil or transmission fluid.
PROLONG, www.prolong.com, (800) 540-5823, ENTER 154
Dashboard phone holder
Dash Pro is a holding device for cell phones that sits on the dashboard while the driver talks. Dash Pro will also hold a GPS, MP3 player and other portable electronics. The portable device rotates vertically and horizontally.
McNAUGHTON, www.dashmatpro.com, (800) 423-5487, ENTER 155

Decorative grille covers
Grille covers also function as bug screens in stock designs or customized covers. Screens can be printed with company logos, photographs and sketches.
TRUCKERSMALL.NET, www.truckersmall.net, (888) 481-7446, ENTER 156

Noise-blocking headset
BlueParrott Xpressway Bluetooth headset is a 3-in-1 professional grade wireless headset designed for noisy surroundings. It is compatible with most Bluetooth-enabled mobile phones and computers. It can be worn on either ear and is offered in over-the-ear, over-the-head and behind-the-neck styles. The extended talk feature provides 16 hours of continuous talk and up to 150 hours of standby with a single charge, the company says. The headset includes a flexible ear hook, headband, neckband, two sizes of leatherette and foam ear cushions, AC and DC chargers and a USB cable for charging via computer.
VXI CORP, www.vxicorp.com, (800) 742-8588, ENTER 157
Beauty truck calendar
The 27th anniversary edition of the Shell Rotella SuperRigs calendar is available. The 2010 calendar includes many of the winners of the 2009 Oak Grove Petro 70 in Oak Grove, Mo. The calendar features 12 award-winning working trucks, including Best in Show winner Brad Caton's 2007 Peterbilt 379 tractor and 2008 Mac Smoothside trailer.
ROTELLA, www.Rotella.com, (800) 237-8645, ENTER 158

Spring brake chamber
The TRP spring brake chamber, for use in all Class 6, 7 and 8 trucks and trailers, is available from TRP-authorized Kenworth and Peterbilt parts and distributors throughout North America and is the first of a series of aftermarket products available for all makes.
TRP AFTERMARKET PARTS, www.TRPParts.com, (425) 254-6135, ENTER 159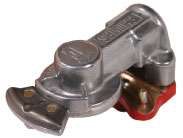 Lightweight gladhand
STA-LOCK gladhands from Phillips ensure a secure trailer connection where space is tight and reduced weight is a goal, the company says. They combine a lightweight aluminum body with a cast iron connector plate. The plate includes a spring-loaded stainless steel ball bearing that provides a positive lock for gladhand mating.
PHILLIPS INDUSTRIES, www.phillipsind.com, (800) 423-4512, ENTER 160
Hose fittings
Four Seasons offers a system flexible enough for most heavy-duty trucks and AG/off-road equipment for building A/C hoses in the field. The system has 71 fitting kits and four different hose sizes in 25-foot lengths.
FOUR SEASONS, www.4s.com, (718) 392-0200, ENTER 161

Lighted handles
Chrome Shop Mafia's lighted door handle trim is a plastic door handle cover with 6-diode LED lights. The handle trim fits Peterbilt models 2005 and newer, Kenworth models with daylight doors 2003 and newer, and Kenworth T2000 models 1998 and newer. The handle covers are available in amber, blue, green and red LED.
4STATE TRUCKS, www.4statetrucks.com, (888) 875-7787, ENTER 162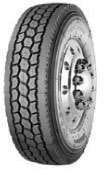 Long-haul tire
The GT669, designed for long-haul service, provides long tread life and retreadability, the company says. Features include deep tread depth, wide tread and balanced distribution of tread blocks, closed shoulder ribs and tapered external grooves.
GITI, www.giti.com (866) 488-4737, ENTER 163
Battery switch
The Cole Hersee SureStart low-voltage disconnect switch electronically senses battery voltage and conserves starting power by disconnecting non-critical loads and prevents battery damage due to excessive discharge. The 100-amp, 12-volt switch is designed for heavy-duty vehicles and vehicles with ancillary on-board equipment and in-cab amenities. At 24-volts DC, its rating is 100 amps, and it exceeds 1 million on/off cycles. When battery voltage is restored, the switch restores the functionality of the ancillary equipment. The switch provides over-current, short-circuit and over-temperature protections.
COLE HERSEE, www.colehersee.com, (617) 268-2100, ENTER 164 n