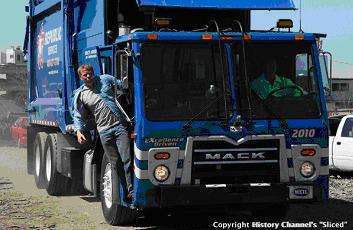 The star of last week's episode of the History Channel television program Sliced was "tough, rugged and good-looking," said makers of said star, a Mack TerraPro refuse truck that the show's host, John McCalmont, showed backed up its exterior with EPA 2010 emissions-certified power in the guts.
Each week, the Sliced host uses a bevy of tools to slice objects apart, layer by layer, exploring how they work. On previous episodes, McCalmont has taken on objects ranging from an Etch-A-Sketch to an armored van.
With the TerraPro, McCalmon first pushed the working truck to its limits, then cut it apart to see how it works. Can it eat a limo? How much can it hold? And can a garbage truck really be clean? The truck featured was one Republic Services had been testing for the past 12 months, outfitted with a Heil Environmental refused body, the truck was ready to come out of field service and be recycled for secondary use when the Sliced opportunity arose.
The show also took a partial focus on the Mack ClearTech SCR system for EPA 2010 emissions. Today's trucks, as we all know, "are not belching black smoke like 20 years ago," said Curtis Dorwart, Mack vocational products marketing manager. Dorwart was on the Boston-area set during the filming to represent Mack and advise the show's staff on what and where to slice.
"The show proves just how tough the TerraPro model is," said Dorwart. "But the ClearTech SCR system is the technology story."
ClearTech uses proven selective catalytic reduction (SCR) technology to reduce emissions of nitrogen oxides (NOx) to near-zero, while at the same time improving fuel economy by up to 5 percent above previous engines. Mack has been building trucks equipped with ClearTech on its production line since November 2009 and testing vehicles in the field for more than two years.
The show itself? "We expected the cutting to be more surgical in nature, but what happened was more of a 'Monster Garage' approach," Dorwart noted.
Watch for repeats on the History Channel schedule here.