It's not exactly a big 10-4, but in her "Road Warrior" column in the Las Vegas Review-Journal a week ago, Adrienne Packer detailed her state's latest addition to the growing nationwide effort to pair state troopers with truckers to target four-wheelers' unsafe maneuvers around big trucks for citation. While Packer reflects a somewhat common feeling among the motoring public when she wonders whether the program is more than just a way to boost revenue coming into cash-strapped state coffers, it's also clear that her witness to the program's effectiveness had a positive effect on her view of the difficulties truckers experience navigating the uncertain landscape on the nation's interstates.
Given the unpredictable maneuvering of so many four-wheelers, the driver she encountered, Bob Barton, with whom Nevada Highway Patrol Sergeant Michael Branch was paired in May, told Packer of the reality out there today: "You always keep an escape route in mind… It's not a matter of if someone is going to do something stupid, it's when they're going to do something stupid."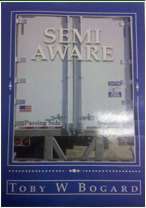 Stay tuned here for more on this subject — I've got a copy of long-hauler Toby Bogard's Semi-Aware book, written about the subject of driving a small vehicle around tractor-trailer units, coming to me in the mail, with high hopes for a great read.
UPDATE: When I wrote about the Fast Wrap company's poly-wrap service for large flatbed/platform loads in the "Flatbedders, had enough of tarping?" post, details about the company's "Agent Program" for motor carriers recommending the service to their shippers were as yet forthcoming. No more. "Fast Wrap's 'Agent Program' allows a negotiated commission of up to 30 percent to be paid to the party responsible for the booking of a job," says company director of sales Christian McMillan. "Essentially it allows us to expand our sales force by paying a commission to a third party for bringing the job to Fast Wrap. In return Fast Wrap indemnifies the 'Agent' during the performance of the work through a short, very basic agent agreement spelling out the responsibilities of Fast Wrap and the 'Agent' and the amounts and dates when payment would occur."
Generally, he adds, "the higher the commission the more work is asked/required of the 'Agent.'"
Typical Fast Wrap Agents include marinas, self-storage facilities, freights and logistics providers (that's you) and others. "Anyone with some motivation and a nose for asset protection," says McMillan, "can be an effective agent. The use of Fast Wrap is only limited by one's imagination."
Visit the company here.