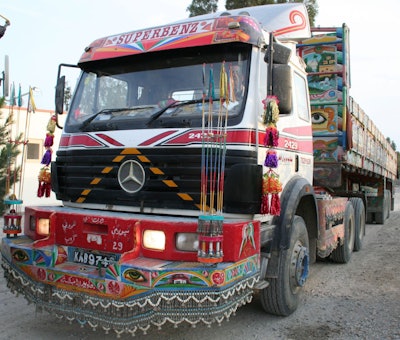 If you missed National Public Radio's recent reporting along the Grand Trunk Road, an historic connection between far eastern and western sections of the Indian subcontinent, from Bengal to Peshawar in Pakistan, you probably missed this report by John Poole from a truckstop outside Islamabad. The stop, a rather informal spot on the Grand Trunk Road from his description of it, serves not only as stopover point but also as a sort of bazaar where artists ply their trade, elaborately painting haulers' rigs in the style of the region.
Though the piece does little to really elucidate the hierarchies therein — who exactly chooses to go with such an elaborate design? do some just stick to the basics? — it feels like we're talking, yes, long-haul owner-operators here, as the trucks, Poole reports, are peculiar to the longer-haul roads through the region, not the modern highways connecting less-topographically-isolated cities.
Truckers News editor Randy Grider approached the particularities of the culture behind the so-called "jingle trucks" of the Middle East, too, in the December edition, part of our "Trucking Around the World" feature.
If you did miss the series of reports on NPR, check them out here, a fascinating look at the culture of a storied freight route. Next up? How about a comparably lengthy report on I-10 or -80, old route 66, I-35, Joplin, Mo., customizing mecca included. . . .