If you've missed the May edition of Truckers News on the racks out at the truckstops this month (I know copies in the more popular stops tend to go quickly), check it out online. Many great stories therein, including an examination of the health-care reform bill (the upshot: jury's still of course out on how the bill will affect the benefit programs of trucking businesses large and small, though parties from both are hopeful) and a cover story about the TCA Company Equipment Driver of the Year, who's the husband of a former driver of the year honoree.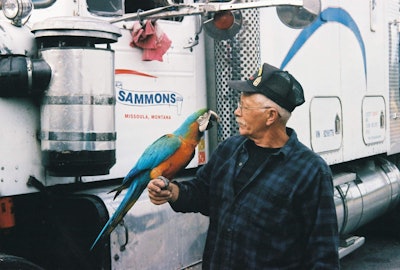 Also featured is this great photo from the road by Swift driver Bill Kast, of a driver he met in Idaho with one unique in-cab partner. If you're a photo enthusiast, join our Flickr.com group here to share your photos from the road. We typically feature one every month in our Online TOC in the magazine.
Also, I devoted my "Exit Only" column to a trucking blues musician whose legendary status is growing as he runs the roads of the nation in an E350 van now in lieu of a truck. Born in Boston the son of an attorney and freedom rider, Bill "Watermelon Slim" Homans first heard blues music while spending the majority of his 1950s and '60s childhood in North Carolina, a white kid partly raised by black women employed by the family. The women sang work blues, and Homans would later take up the genre with a harmonica and lap dobro, releasing his first record in 1973.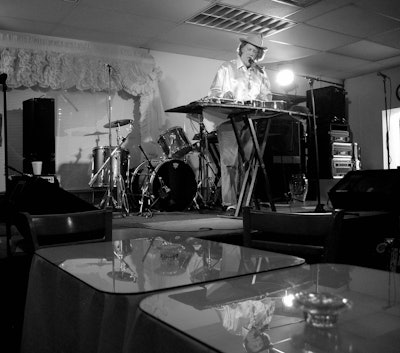 Merry Airbrakes was a Vietnam protest record on a small label, but as its title suggests, Homans had already shown at least some of what would be one of the biggest influences on his music some three decades later. "The blues is work music," Homans told me in Nashville in March, on tour with his new Escape From the Chicken Coop record (in part with his excellent band, the Workers). "I had my first MOS in military hauling, in 1969, but I never drove commercially until about 1987."
Coop mines the subsequent years' hauling experience — "I wrote many songs waiting for a load or to get unloaded," Homans says — from the opening track, "Caterpillar Whine," on down to a sort of paean to trucking 'round the world, "18, 18 Wheeler." All in all, for my money it might be the best blues-inflected country-rock, you-know-what-thumping collection of trucking songs to come down the pike in a long time.
[kaltura-widget wid="ln180i3pwe" width="400″ height="365″ addpermission="" editpermission="" /]