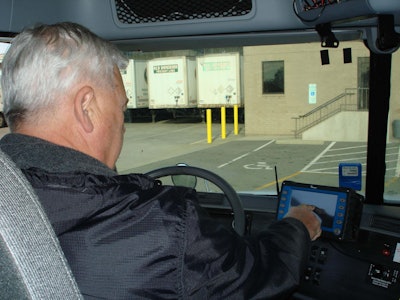 In my research for the cover story of the current edition of Overdrive, "Getting on board," about the growing use of electronic onboard recorders for logging among many major carriers throughout the United States, I had a conversation with expediting husband-wife team Bob and Linda Caffee about curiosities of their electronic logging system.
"We drove to a military base," Bob said of a particular pickup, "stopped and went on-duty not driving. We had to go to another place, less than seven tenths of a mile, then kept going back to the previous spot. In the end, it added up to 3-4 miles, but the system never logged us driving."
So the next time you see a truck rolling along the apron on the interstate and stopping intermittently, by all means, fire up the CB to find out if the driver needs assistance, but it could be he/she's running with an EOBR, out of hours and trying to get to the next exit without an hours violation.
Contrary to road rumors, EOBRs logging automatically aren't by any means foolproof. As with all technological solutions, they're dependent on the rigid systems they use as well as operator input to determine the specific nature of all nondriving time. The "automatic" part of the logging process is all about movement – when the wheels roll, the systems commonly log the driver on-duty driving after 0.7 miles, beginning the time on that line retroactively, back at the point when the rig first moved. Most systems use a preset time trigger to, when the wheels stop moving and/or the engine shuts down, move the driver to Line 4, on-duty not driving, then awaiting the driver's input.
If you're running with one of these systems, you know this already, of course, and it's likely you enjoy the ease the system brings to the logging process. (Almost all the drivers and owner-operators I've talked to who are actually running with EOBRs say they like them.) If you're not, you may well be soon, as the Overdrive story illustrates. Carriers across the nation, for sundry reasons — the partial hours supporting documents relief the new EOBR rule provides, anticipation of CSA 2010's "all violations" focus and shippers/brokers' intense attention to safety scores — have begun adopting electronic logs in force. Give the story a look when you have reading time. For now, for a short demo of the PeopleNet eLogs system from TCW company driver Dale Richmond, check out the vid below.
[kaltura-widget wid="k13w14ij1s" width="400″ height="365″ addpermission="" editpermission="" /]