Let's put the disclaimers up top, how bout?
"No humans were harmed in the making of" the www.k9friendsunited.com doggie social-networking website, says founder Diarmuid Scullin, a

long-hauler who started out with a simple, if somewhat off-the-wall idea. "Have you ever noticed that the vast majority of dog owners tend to be warm, open and friendly people but maybe because of time or other commitments you rarely see two walking together, talking together or getting a chance to meet up, show off their dogs and find out what is happening in the K9 world?" he asked.
He envisioned a social networking website in the style of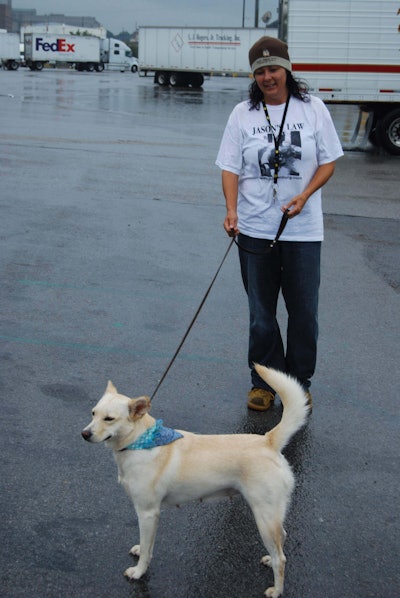 so many out there online today, but centered around the pets of the members. Web designers he met with (11 in all, he says) called him crazy — after all, they duly noted, dogs don't need to be fiddling around with computers but rather running free, ahead of the pack! But try telling that to the infamous pooch of trucker Desiree Wood, Karma (pictured), whose Twitter feed might be read more than Wood's own,
The end result is a big success, all around, says Scullin. The online doggie network now boasts "almost 1,500 members from 16 different countries … in a matter of months," he says. Dog lovers, check it out for yourself.
————————–
UPDATE: The scene on Visco Street in the section of Nashville along the river I wrote about last week, home to many trucking terminals and shipper/receiver locations, was dusty this weekend, as crews worked on cleaning out inundated buildings and mobile equipment got moved back into dried-out muddy yards. I'd been down there helping one fleet clear out the debris from their building, and took a moment leaving to snap a few shots, which you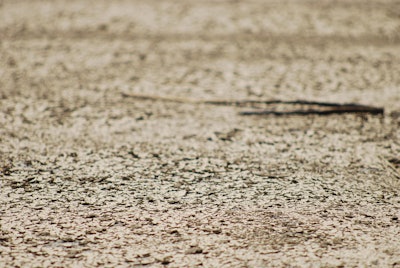 see here. There's lots of work yet to be done, no doubt, though most of the fleets in the area are operational, as I reported before.
I also spoke again with owner-operator Malik Yafai, the north Nashville resident whose T600 was caught in the inundation at the TravelCenters of America location downtown. His insurance adjuster reported his rig was totaled, and he was mulling over possibilities of new power when we talked Monday. Here's hoping he gets enough of a payout to cover a comparable piece of equipment.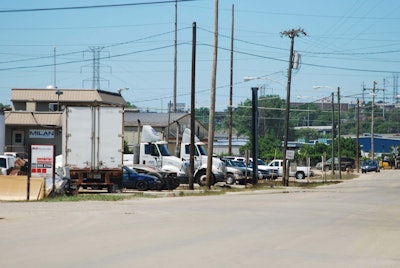 Meanwhile, a bit of somewhat positive news emerged last Friday when rail carrier CSX noted it may not be able to reopen the portion of its Nashville-Memphis connection flooded under the Harpeth River for up to six weeks, as reported in the Nashville Business Journal. The 10 trains daily that make the journey are apparently rerouting to other lines, but delays could result in more than a few over-the-road loads between the cities.