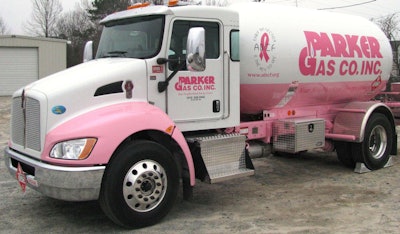 When Daren Parker prepared to ask a senior driver in his Raleigh, N.C.-based Parker Gas propane-delivery fleet to drive a new medium-duty Kenworth T370 straight tanker, all bets were off as to what kind of reaction Parker could expect from said driver. The truck, after all, was painted pink. "You don't see many trucks painted in pink," he says, "so some guys might have a problem getting excited to drive it."

But any spot negative thoughts quickly vanished, as the truck, promoting breast cancer awareness, became a hit in the community North Carolina triangle region — and a source of pride for Parker Gas.
The family-owned company, which was started by Daren's father Earl in 1958, provides propane to residential, commercial and agricultural customers through branches in Newton Grove, Clinton, Fayetteville and Smithfield, N.C. It also runs a cylinder exchange business, branded as RapidXchange, and services more than 3,000 convenience, grocery and hardware stores throughout a five-state area.

"The 'Fueling for Hope' program, through the American Breast Cancer Foundation, is one of our ways of giving back to the community," Parker says. "For every gallon of propane the truck pumps, we contribute a penny to the foundation, so this year with the T370 we'll pump around 600,000 gallons, and we'll write a check for $6,000."

The special Kenworth Breast Cancer T370 (pictured), powered by a PACCAR PX-6 engine, rated at 300-hp, and driven through an Allison automatic, joins 18 other Kenworths in the Parker fleet. For the company's propane delivery fleet, Parker Gas has standardized on the T370 for new truck orders. Seven medium duty Kenworth trucks shoulder 2,800-gallon propane tanks. During the busy season in the winter, each Kenworth will make between 30 and 40 stops per day.