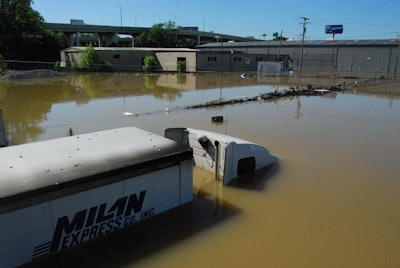 There's been little to no coverage of a big portion of Nashville's industrial and transportation base, much of it situated along rail tracks north and south of the Cumberland River and east of downtown, that was still, as of yesterday, under water.
In my last post, I mentioned Vitran Express and intermodal carrier TCW, both situated, along with other truck operations, Hascall Steel and many other businesses, along the rail tracks in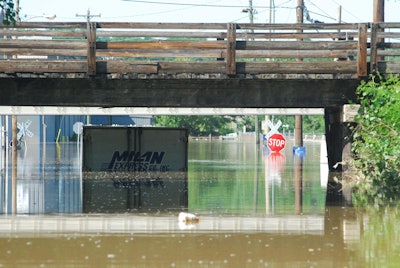 a low area off Hermitage Avenue south of the Cumberland, still at flood stage as I write this. Things did not look good, to say the least, when I ventured out to the area yesterday, even as the Cumberland began to significantly recede from its Monday crest.
Two employees of Hascall, Rob and Frank, told the story of the inundated Milan Express rig you see in the first couple pictures here. The driver was stuck Sunday morning, they said, and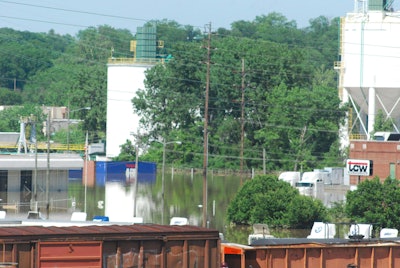 one of Hascall's own tried to assist the driver in getting the truck out with another vehicle.
This street and the rail underpass might be the lowest point this far south of the Cumberland in this area, an urban canyon bordered on the east by a Penske Truck leasing facility on high ground, on the south and west by Hermitage Avenue and the I-24 span over the Cumberland.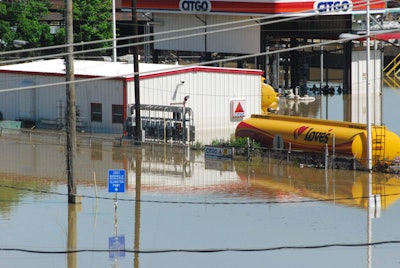 The good news is that the Cumberland had receded to the point that Hermitage Avenue was passable at its intersection with Driftwood and was passable for the first time in days, the Hascall folks said, allowing good access in and out for TCW and other drivers still able to move freight out of the rail terminal in the area, most of which was dry Tuesday. Sunday, the Hascall folks said, almost all roads into the area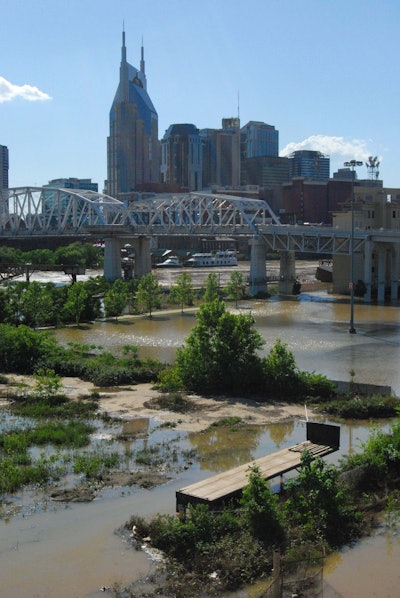 were themselves impassable.
I came upon TCW driver Paul Joyner Tuesday, parked on the high ground of Willow Avenue overlooking the devastation, and he was getting ready to hook a loaded container for movement — a sign that, in spite of all the difficulty, business goes on. TCW has yards in several cities throughout the Southeast, in any case, as well as a main-office location elsewhere in Nashville that is dry, thought this was their main terminal here.
Joyner speculated his carrier's building, which you can just see beyond and right of the sign in these pictures, may well be a total loss. Fortunately, it looks like the majority of TCW equipment was able to be removed prior to the full inundation of the yard Sunday.
Vitran Express, situated across Visco from TCW, may not have been so lucky. You can see several of their rigs' roofs in these pictures just ahead of the TCW sign, and in the video below.
Though the city's resident remain under an emergency water-conservation order,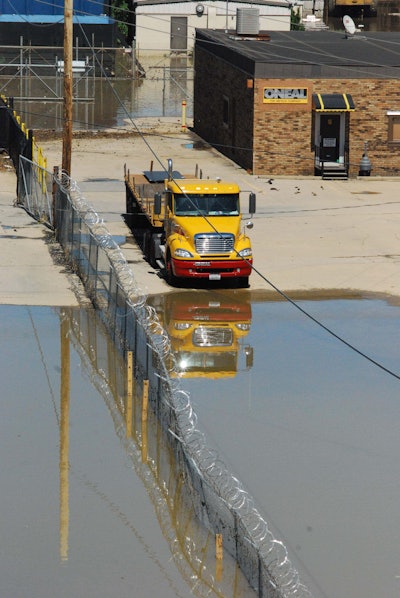 in large parts of Nashville on this side of and back across the river, such as the area around my East Nashville home, life continues normally. But as the images of the Citgo distribution point off the Shelby Street bridge suggest, many other elements of the city's industrial and transportation base have been stalled for days now and the prospects for recovery remain uncertain.
When I talked with Rob and Frank of Hascall steel, they were waiting on a fellow Hascall employee to meet them there with a boat. They were planning to do what they could to assess what it would take to mitigate the damage as the waters continue to recede. While we were talking a homeless man named Freddie walked up and joined us momentarily in looking down flooded Driftwood St. After a minute or so, Freddie turned to me and said, "I lived down there."
[kaltura-widget wid="e8f32vm3qo" width="400″ height="365″ addpermission="" editpermission="" /]
UPDATE: Milan Express President Mike Stone just returned a call I put in this morning to say the company is fully operational into and out of Nashville, as are other companies in the area you seen in the video and pictures above. "We are up and running in Nashville," he says. "We had an emergency and disaster plan in place and got that going immediately. We were able to rescue most of the freight and the equipment before the police made us leave Sunday," as waters rose. That rescue operation likely resulted in the inundated Milan trailer you see in the pictures above, Stone speculated, though he couldn't be certain.
At present, the company is operating from a temporary facility in Nashville and moving to a more permanent, considering the circumstances, location, until they can get their original facility fully cleaned up and going.
"We've got freight destined for Nashville from 37 other terminals," said Stone, "and we can't let that freight backlog – we have to get it going, and we're committed to that. Even though we've had issues with flooding at our terminal, like a lot of people we're feeling fortunate compared to the homeowners and everybody else going through this. Some of us personally have had issues with our own homes and everything else. We appreciate everybody's support. We're up and running and we want our customers to know that – we need them to continue to give us their business and we'll make sure we handle it with the same care and efficiency that we've done before."
As rain continued to fall Saturday, Stone says, the company's disaster team began meeting every two hours and company employees acted on their own accord, in some instances, to attempt to rescue equipment. "We have a lot of heroes," he said, "in all this. Sunday, some of them were going into water up to their chins and grabbing and getting stuff out of there somehow," before in a couple cases, he adds, "police came in a boat and made them leave. That's dedication. We'd have never asked our people to do anything like that."