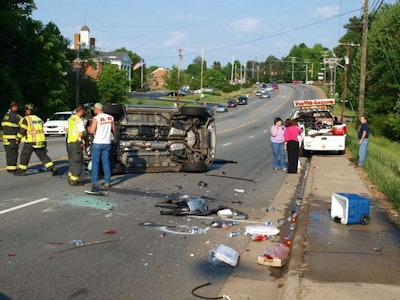 In Burlington, N.C., on highway 70 yesterday, Lee and Jazzy Jordan were rear-ended "just as we were coming to a stop right around her J" to get ready to run, says Lee. "I had the four-ways on, and I guess this woman she didn't even look."
Jazzy has made great progress on her truckers' benefit run across the United States since I ran with her March 30 here in Nashville, crossing the Appalachians and well on her way toward a June finish in Times Square in New York City. Neither she nor Lee was injured in wreck, though
both report soreness and stiffness today — the vehicle that rear-ended them was traveling at approximately 45 mph, they reported on Jazzy's Facebook page.
The Ford F250 pilot truck the Jordans were towing an Aljo travel trailer with and utilizing during Jazzy's run, however, is totaled, but as quick as the insurance companies can sort things out, Lee said, "we'll need to see about a rental vehicle — going to be a big hassle, I do know that." The Jordan Enterprises pilot car company, Lee said, doesn't have another vehicle capable of towing the RV, compounding the problems resulting from the accident. All the same, Lee speculated that, if he can't transfer his pilot lights and other equipment to a rental, they may have to make do with police escorts the remainder of the way.
Jazzy was unequivocal about continuing: "This will not mess up my run," she said.
Keys Truckers Jan and James McCarters, writers of the "Thank You, Jazzy" tribute song to the young runner, suggested running a mile today in honor of her. "I just did and I can't feel my legs!" Jan posted to the runner's Facebook page. "Let's try to take away her pain by feeling her pain and showing support!"
At the McCarters' site, you can download the aforementioned song and find out more about ancillary projects whose proceeds go to benefit the St. Christopher Truckers Development & Relief Fund, the Jordans' beneficiary of choice for their run. You can donate to the Jordans directly at www.runwithjazzy.com.