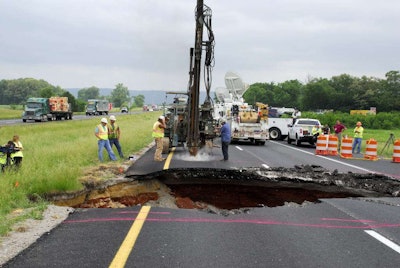 As if the Tennessee Department of Transportation didn't have enough problems already, considering the damage recent flooding did to infrastructure in the middle part of the state, Tuesday earlier this week a reportedly 25-foot-deep, 40-foot-wide, 18-foot-long sinkhole opened up on I-24 eastbound between Nashville and Chattanooga (pictured, Courtesy TDOT) that nearly swallowed up a big truck, folks on the scene reported.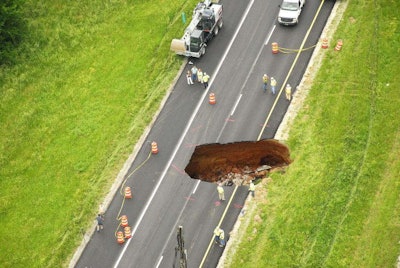 Luckily, TDOT employee David Shelton was in the very next vehicle on the scene and quickly pulled over and flagged drivers behind him to stop.
"A piece of the road broke off with him," the 42-year-old TDOT maintenance worker told the Tennesseean newspaper of the trucker who was above the sinkhole when it opened up. "And he almost went into the hole as it was opening. He was up on two wheels and somehow he was able to jerk the wheel and get back up on the road."
The truck's driver wasn't hurt, though his rig was reported to have been damaged.
Eastbound traffic is being diverted between exits 114 and 127 as road crews repair the hole. "We are still on schedule for Saturday," tomorrow, to finish, said TDOT spokeswoman Julie Oaks. "Around the clock emergency repairs continue. Wednesday, crews placed the 'keystone' rocks in the hole (they are the large rocks that will form the stable base of the new road), followed by a layer of geo-mesh — a mesh-type fabric lining that will keep dirt from coming back up into the rock — on the bottom and sides of the hole. After that, they hauled and dumped rock into the hole. They will continue to haul and dump rock until they get to roughly 28 inches from the top, then they will begin placing aggregate layers in preparation for paving."
UPDATE:
From the Tennessee DOT this morning: Eastbound lanes are back open.
Chattanooga, Tenn. – I-24 East at mile marker 127 in Grundy County near the Coffee County Line is now open to traffic. The roadway reopened at approximately 6:00 a.m. CT Saturday, May 22. I-24 had been closed for several days as a result of a massive sinkhole that developed suddenly
on the morning of Tuesday, May 18.
TDOT awarded an emergency repair contract to Highways, Inc. who worked around the clock to stabilize and repair the area. The initial sinkhole was 25-feet deep and covered the entire inside lane and a portion of the outside lane of I-24 East between mile marker 127 and Exit 127. Crews
had to excavate 35 feet to reach the bottom of the sinkhole and remove unstable material. The area was then filled in with more than 5,400 tons of graded solid rock and repaved.