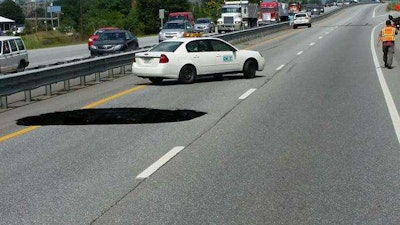 After I-65's bridge closure, @GovPenceIN considers using Indiana's reserves to fix roads. https://t.co/rQGJ6NnlAk pic.twitter.com/9cUwTPcFIO

— IndyStar (@indystar) August 13, 2015
The American Transportation Research Institute forwarded along a breakdown of NB I-65 alternates to points north of the Lafayette area in Indiana, site of the recent bridge span closure over Wildcat Creek.
While InDOT continues to divert NB I-65 traffic along the official detour Overdrive has noted in prior reports, local media have specified a variety of potential alternates I'm sure many truckers running the area have considered. They bear noting, though, for those unfamiliar with the route, as ATRI notes:
Traffic heading to Chicago
Take Interstate 74 to Interstate 57 in Champaign, then north to the city.
Another route to Chicago:
Take I-74 to U.S. 41 and then straight north.
Traffic to Greater Lafayette from Indianapolis:
Take I-74 to Indiana 25 at Waynetown, then head north to Lafayette's south side.
If you're heading from Indianapolis to the east side of Greater Lafayette consider:
Exit on Indiana 39 at Lebanon and head north to Frankfort. Go west on Indiana 28 to Mulberry/Jefferson Road. Follow that to Indiana 38 through Mulberry and into Lafayette.
For haulers through the area — how bad are backups on the primary detour and I-65 heading into it? Drop a comment below.
ICYMI yesterday: There's a sinkhole in the road, slow down…
And then on I-93 NB in New Hampshire…
MAJOR TRAFFIC ALERT! I-93 northbound closed in Concord near Exit 14. Large sinkhole. Emergency repairs underway. pic.twitter.com/qgnTBUkMAe

— NHDOT (@NewHampshireDOT) August 19, 2015
Several hours later this was the scene:
Sinkhole on I-93 northbound in Concord being filled and almost ready for paving at 6:55 pm. pic.twitter.com/bwlpOnOel8

— NHDOT (@NewHampshireDOT) August 19, 2015
Fortunately, no one was reported injured after the sinkhole fell in, and the roadway was reopened to traffic last night. Here's kudos to the state DOT for quick work on the emergency repair. Reminds me a little of the close-to-home (for me) sinkhole that opened up on I-24 near Nashville several years back, a bit more sizable than the I-93 hole. Read the account of how one driver narrowly missed behind swallowed up by that one at this link.
A few more recent alerts from state DOTs and other watchers via @OverdriveUpdate on Twitter.
RT @WTOC11: I-16 UPDATE:1 WB lane at Exit 104 to remain closed all day for cleanup after crash:https://t.co/c13iRpfJPy pic.twitter.com/wGxzvx5zOM

— Overdrive Magazine (@OverdriveUpdate) August 20, 2015
RT @ajcwsbtraffic: About two-mile delay w/bridge inspection in right lane I-75/nb on Lake Allatoona bridge, two mi no of ex. 278 #ATLtraffic

— Overdrive Magazine (@OverdriveUpdate) August 20, 2015
RT @MDOT_MetroDet: Construction: Southbound I-275 at 8 Mile left lane closed until 3:00

— Overdrive Magazine (@OverdriveUpdate) August 20, 2015