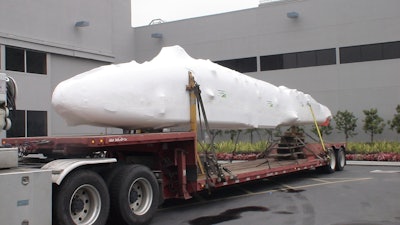 You might recommend the folks at Fast Wrap to your shipper customers, who do the kind of work you see in the picture here, a wrap of a jet engine. They've got mobile crews in more than 60 locations around the country who do the work, and the wrapping material is then recycled by the folks at Fast Wrap themselves. They typically wrap anything "from generators to large boats and planes for shipping and transportation," says company PR rep Abbi Whitaker, but Fast Wrap COO Chris MacMillan notes that pretty much anything that can be put on a flatbed can be protected this way.
"If it can be shipped, we can protect it," he says. Fast wrap has successfully encapsulated for shipping everything from freight containers to a military jet and an entire exploratory drill rig, and most everything in between.
And hey, the wrap comes in custom colors. Imagine what an excavator on the lowboy might look like rolling down the road wrapped in the new forest green shade. . .
Check Fast Wrap out at http://fastwrapusa.com/ or on Facebook.