Finley, Ohio-based owner-operator Scott Grenerth, 40, I met in Nashville the day I ran with Jazzy Jordan (she's nearing Statesville, N.C., now — go go go!).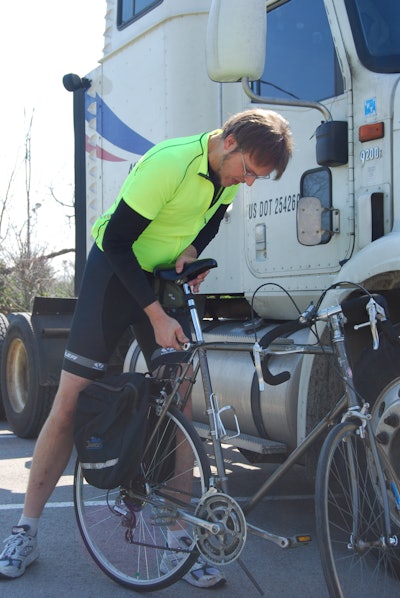 He was in the area headed to a pickup and brought his cycle out (pictured) to ride along as we ran. Turned out he was in the area frequently, and he's lately discovered the great Shelby Bottoms Greenway, which runs along the Cumberland River for several miles from Shelby Park, with a bridge over the river connecting the trail to the Opryland area, too.
From the downtown TA (closer) or from the Pilot at the Trinity Lane exit on I-65 (a little farther), for a driver laid over and with a bike in the rig, it's just a few miles' ride to the trailhead. Two weeks later Grenerth was back in Nashville and parked his 2002 International Eagle down at the TA and rode up to my place — we ventured out to the Greenway from there. On a break, I interviewed the former naturalist (did you know that Redbud flowers are edible and taste quite good, like young spinach?) about his now 9-year trucking career, his move to owner-operator status a year and a half ago, and more. Enjoy the resulting vid below — he's got good things to say about operating efficiently, and his story is a unique one. Keep an eye on Truckers News' print edition and this blog for more about his www.truckercycler.com site in the coming weeks.
[kaltura-widget wid="kpaw0oe88o" width="400″ height="365″ addpermission="" editpermission="" /]