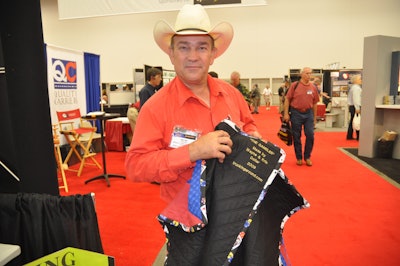 Though he perhaps needs no introduction, since you may have met him at his booth at the Great American Trucking Show in Dallas last year, owner-operator Wayne Dollar (pictured), 54, not only stitches his own quilts, he's been winning awards with three of his uniquely themed creations since he started making them last summer. A trucking-themed quilt, with the moniker "Trucking Around" (also pictured), won first place at the Tri-State Fair in Amarillo, Texas, last year, and The Gambler, a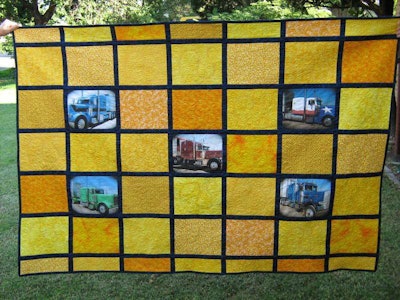 coverlet adorned with cards and dice, placed second in another division at the fair. Judges at the Ogalolla Quilt Festival in Dimmitt, Texas, awarded his Bull Fighter quilt honorable mention.
Yes, it turns out we weren't so scooped as we thought we'd been by that Wall Street Journal story blogged about here a few weeks back concerning a trend in knitting and quilting among truck drivers. They didn't know about Dollar (WSJ, your bat).
Dollar's wife, Kris, grew up quilting and taught him how to make the blocks, at his request. "It's just fun," says Dollar, a Hereford, Texas, resident and longtime flatbedder, leased to Mercer Transportation. "It's really more about getting some time with my wife and enjoying traveling and looking for material together."
The intricate work required to make both hand-stitched or machine-quilted covers is nothing new for Dollar. Before he took up working with textiles, the Lonestar State native and rodeo buff pounded metal into hand-made spurs and bits. "The tedious I like," he says.
The machine-stitched blocks save time for more work on the quilts' unconventional subjects. "We design the tops ourselves. We can't use a regular one because of my irregular ideas," Dollar quips.
Telling stories through both quilts and more traditional means appeals to the 27-year veteran trucker. He has produced four CDs of "stories of my life on the highway," Dollar says. "I like to share my thoughts with other people."
Find some of those thoughts in clips at Dollar's website: http://truckingaround.com/. –Lucinda Coulter