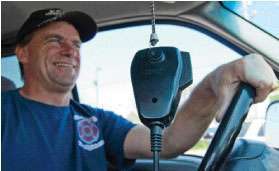 Turns out Lee Jordan's early-May prediction that he and his daughter, Jasmine "Jazzy" Jordan, would be making their Times Square, New York City, finish point of Jazzy's run across the U.S. to benefit the St. Christopher Fund by a week from today was on-the-spot correct.
I spoke with Lee (pictured) yesterday and he said the pair were in Joppa, Md., approximately 170 miles from their destination. "We need all the runners we can between now and then," June 15, Lee said, issuing a call for truckers in the Northeast to join Jazzy on the home stretch, and particularly the last eight-mile leg into Manhattan from Ft. Lee, N.J., on the 15th. "If you've ever laced up a pair of tennis shoes and run a block or a mile or five or eight miles, then definitely come out for the last leg." It's an eight-mile leg, he added, and you can get in touch with the Jordans via Jazzy's Facebook page and or Lee Jordan at (813) 484-7415. Donate to the pair or the St. Christopher Truckers Development & Relief Fund via those respective links.
It's been a somewhat rough road at times for the Jordans since I ran with Jazzy back at the end of March — you may remember my post about the totaling of Lee's Ford pilot pickup in Burlington, N.C., in May. Since then, the Jordan Enterprises pilot car company, run by Lee's wife, Paulette, out of Minnesota, stepped in to purchase the crew a 2002 Ford F350 to keep them going. "Jordan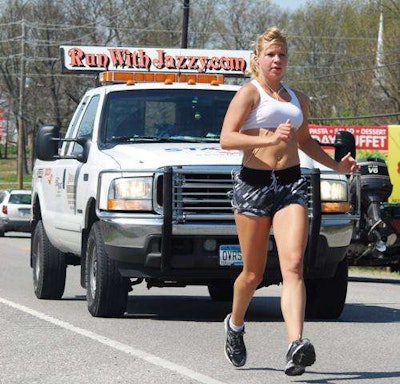 Enterprises bought the truck and made sure we had it before insurance settled up for" the totaled vehicle," Lee says.
My story about the pair is featured in this month's edition of Truckers News (cover shot at left). In case you've missed it out there as yet, here's a link to the text version. There's a great deal of reporting there on the background of the run I haven't shared on the blog as yet. For some of that, you can also watch the new video interview, shot in March before and after the Mid-America Trucking Show, below.
Jazzy's holding strong, Lee says, though she's been having some pain. Knowing her, though, I can be sure her resolve will hold strong this next week. Go Jazzy go!
[kaltura-widget wid="dvst5tbz36″ width="400″ height="365″ addpermission="" editpermission="" /]