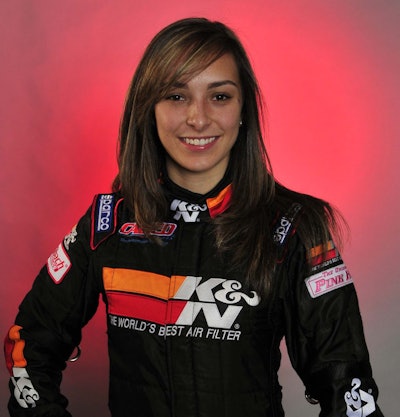 NASCAR Camping World Truck Series driver Caitlin Shaw, pictured, at 21 years old has taken on quite a task that is also something of a promotion and meant specifically to honor the nation's haulers — particularly, she says, those many individuals "who have made a difference in the environment, whether it be a large change, or something as simple as changing oil brands to gain better mileage."
She wrote us personally, which might be considered something of a rare occurrence for a race driver, to note her campaign with sponsor the Oil Medics, whose mission, says company owner Bill Jewell, "is to increase fuel economy and prolong engine life, while reducing oil purchases by up to 90 percent." They're taking submissions from drivers who've modified their rigs to enhance fuel economy, prolong oil life or embark on some other "green" initiative through Nov. 9; they'll spotlight a particular driver or owner-operator weekly on Shaw's and the Oil Medics' websites (winners announced each Monday).
And why? Well, it certainly affords an opportunity for her sponsor to gain new contacts with drivers, but Shaw clearly has a more personal stake in the endeavor. She's been competing in motorsports for more than 10 years, and the 21-year-old says she understands the sacrifices that come with the trucking lifestyle, and its importance, after running the road with her race vehicles.
Over three years she spent driving with her father coast-to-coast to various races from the age of 16, and sleeping in large part in truck stops, she says she recalls quite a lot fondly: "The first day we were out on the road heading from New Mexico to Indiana my dad was teaching me road etiquette, and I absolutely loved when we would flash our lights to tell the other drivers it was OK for them to get in front of us, and they would thank us by flashing their lights back. It was like entering a whole new community."
At a Flying J about two months into their first long haul, she goes on, "my dad's hair had gotten so long and out of control that he stopped in for a haircut. The next thing I know, my dad is walking out with hardly any hair left, and the other truckers waiting all kept smiling and telling him he wouldn't have to cut his hair again until next year! (I think the one thing I miss most about Flying Js would definitely be their chocolate cake!)
"I always enjoyed getting to talk to the drivers when they would come over and look at my racecar. We would have to pull the racecar out of the trailer at truck stops, rest areas, or Wal-Mart parking lots after a race to do maintenance and get the car ready for our next event. We would always have drivers come over and talk to us about local racing in their hometowns or grab an autograph card from me. It was a really neat experience."
All in all, as she puts it, "I gained a lot of respect for truck drivers and now through this green awareness campaign I have the opportunity to recognize those men and women on the roads."
All driver submissions/nominations will need to include the driver or owner name, a photo, and a short description of their green initiatives. Please submit all entries through TheOilMedics@yahoo.com. Drivers chosen will receive prizes ranging from a set of Airtabs to an Aircell and Turbo 3000D module, as well as Caitlin Shaw Racing hats, shirts and autographed cards.