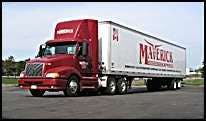 Jim Wood of Maverick Express in Battle Creek, Mich., was interviewed by the Battle Creek Enquirer newspaper, the talk published in the exceedingly rare (in newspapers) Q&A format. Remarkable results for the trucker, whose boss at the carrier he worked for in his mid-30s told him, as he told the story to Enquirer reporter Andy Fitzpatrick, "'Jim, big companies don't need any mavericks'… I think I was 36 at the time. Here we are with two kids in diapers, one in preschool, and I quit…. I always like to do things my own way. It's just the way I'm cut. I turned in my keys and my credit cards, and that was that."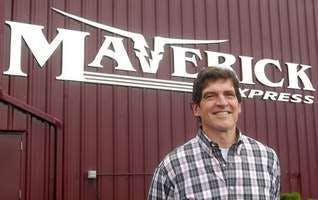 A man cut out for managing a long-haul owner-operator business, Wood (pictured) sounds to me, though Wood's trucking outfit he says started out purely light-load expedited with a 1974 Ford Econoline van he'd had since high school, as well as a new Econoline he purchased at the time, the mid-1990s.
Maverick Express didn't get into the tractor-trailer business at first out of a reticence to compete. "That's for the big boys," Wood tells Fitzpatrick of his avoidance of long-haul. It was response to the needs of a customer that got him over the hump there, his ability to solve problems for customers the key to his success. "Well," he tells Fitzpatrick, "then you got that first customer that says, 'Gee, if you had a tractor-trailer, we'd kind of like to do this thing called a milk run with you.'"…
The rest is history. Click on the thumbnail image of Wood (shot by Kevin Hare of the Enquirer) above for the full interview.