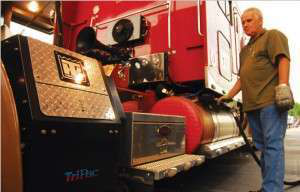 Check out my story in the September Overdrive magazine on various financial incentives — rebates, grants, various low-interest loan programs — state governments are making available to owner-operators and carriers to encourage the purchase of idle-reduction technologies like APUs, cab heaters and the like, and you'll find in the lead this pic of the new Thermo King TriPac unit on Billy Sams' 2001 custom Peterbilt 379. I got the opportunity when I met Sams in Gordonsville, Tenn., to take a good number of pics of the rig — with its Leslie train horns, full WTI fenders and imacculate interior with wood flooring. (See them in the attached gallery.)
Sams and his wife, Nancy, who handles the company office in New Tazewell, Tenn., were able to take advantage of Tennessee's "Idle Smart" program to reduce the ultimate price of four TriPac units by around $4,000 apiece. Tennessee's program awards rebates of up to 50 percent of the price of APUs to individual owner-operators and small fleets based in the state. Billy Sams looks at the TriPac on his rig as a luxury in earlier days virtually unknown to the trucking world excepting the few early-adopting operators who outfitted their rigs with early generators and auxiliary HVAC systems prior to packaged APUs.
In any case, check out the listings of state programs along with the story, and take note of news that has come out since I wrote that story about the Owner-Operator Independent Drivers Association's APU grant program, funding by $1 million from the EPA for outfitting a couple hundred trucks based in EPA regions 6 and 7 (including the states of Arkansas, Louisiana, New Mexico, Oklahoma, Texas, Iowa, Kansas, Missouri, Nebraska and a total 75 tribal nations) with emissions-reducing, fuel-saving auxiliary power units. They began taking applications yesterday, Sept. 7.
Billy Sams and his rig, incidentally, were featured on one of the trading cards CAT Scales gives out at their locations. He describes the truck as his "last rig," and he's driven every one of its million-plus miles safely, he says.