On the blog of the U.S. Transportation Secretary Ray LaHood, a shout-out was posted yesterday to the Heathy Trucking Association of America and the Trucking Solutions Group 61+ Driver Health Advisory Committee's health walk at GATS last week, which I wrote a little about in advance of the show. Held at the Dallas Convention Center on Saturday, Aug. 28, the walk was the latest in a series of such held to bring awareness to all about the importance of good health in spite of the over-the-road lifestyle's challenges.
The tenor of the commitment so many individuals are bringing to the issue has taken on the character of what the Secretary called in his headline a "movement." He wouldn't be the first — check out my colleague Misty Bell's column in this month's Truckers News, "Health Movement Gathering Steam," for slightly earlier use of the term.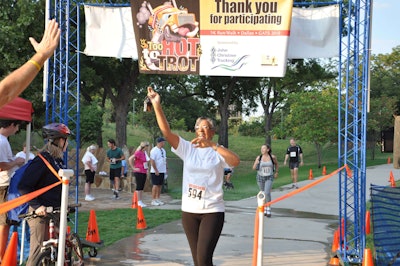 But while the Secretary rightly lauded the legions of drivers stepping up to the challenge of leading by example in the area of health, he failed to make note of a similarly focused endeavor at GATS that, unlike the walk (which he noted "was conducted indoors, away from the heat of the Texas sun") saw drivers out in the open, jogging to promote awareness of the health issue. Thankfully, the Truckers News Fit for the Road program's inaugural Too Hot to Trot 5K on Aug. 27started out early, at 7 a.m., before the heat was too very oppressive, and it brought out many of Saturday's eventual walkers, among others, to the Dallas Katy Trail for a three-plus-mile run or 1-mile walk. Among the participants were Convoy for a Cure USA organizer Cindy Stowe, Trucking Solutions Group member and FedEx Custom Critical-leased owner-operator Linda Caffee (quoted in the Secretary's post), and so many more.
Check out the vid below for scenes from my conversations before and after the run with several drivers and industry reps among the participants, from the 5K's first-place finsher, Right Weigh Load Scales' Andy Mount, to Jasmine "Jazzy" Jordan, Landstar owner-operator Lance Willey and Summit Transportation's Doug East. . . .
And if you're wondering how I fared on the run, well, I wrote about that last week. Enjoy.
[kaltura-widget wid="9azy394ruo" width="400″ height="365″ addpermission="" editpermission="" /]