Named for the laudable goal of launching truck drivers writ large past the statistical driver's average age of death (less 61 years, according to the Center for Disease Control and Prevention, 16 years younger than the average American), the 61+ Driver Health Awareness Walk of 2010 will take place Aug. 28 at the Great American Trucking Show in Dallas, one day after Truckers News' Too Hot to Trot 5K run-walk I mentioned briefly in my piece about the Jazzy Jordan racecar design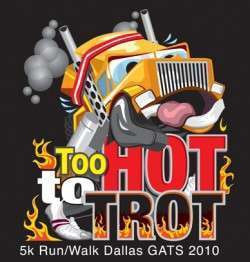 from a couple weeks ago. Suffice it to say that health will be a big theme of the show and no doubt a growing concern of haulers around the nation as new driver health regs come into play.
If you can be in Dallas the 28th, say the walk's organizers, the Healthy Trucking Association of America, join fellow walkers no later than 9 a.m. in room D168 at the Dallas Convention Center, where fitness celebrity Bob Perry will lead the group in warmup exercises. The 1.5-mile walk will take place indoors, within the exhibition hall, finishing at the HTAA Health, Wellness and Safety Pavilion.
Organizers call it "another opportunity for drivers thinking about getting fit, wanting to stay healthy, or looking for tips to enhance their workouts to join the HTAA and their fellow drivers."
There is no cost, but registration is required at www.healthytruck.org.
The Too Hot to Trot 5K will be an outdoor affair, as its name implies. Thankfully, it starts at 7 a.m. before summer Dallas heat gets too unbearable. It will happen at Katy Trail, 12 miles from the convention center — transportation to be provided. Preregister (not required) at the Too Hot to Trot page on Truckers News' website. I'll be there and running, it looks like — you'll be able to spot me, no doubt. I might be the only guy running with a video camera slung over his shoulders. You can also register onsite Thursday, Aug. 26 at Truckers News' Fit for the Road booth #23175. Jazzy Jordan, as well as our Marathon Trucker columnist Jeff Clark, will be running as well, looks like. Hope to see you there.