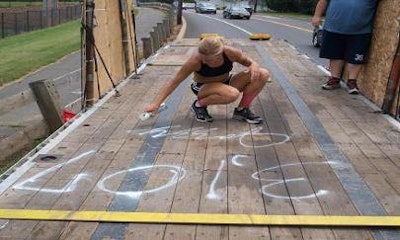 Since Jasmine "Jazzy" Jordan completed her run across the United States to benefit the St. Christopher Truckers Development & Relief Fund, haulers around the nation have used the internet to send out mini-tributes to her historic effort, from posted pictures (such as the one here from Robert Curran, of Jazzy signing his flatbed) and anecdotes on blogs and more; others have custom-designed tribute slogans and placed them in various spots on their trucks and trailers.
But how about a Jazzy Jordan/St. Christopher fund-themed racecar? You can vote for the Jazzy-car design a friend of Keys Truckers Jan and James McCarter put together and entered in Toyota's "Sponsafy Your Ride Contest." If you like it, that is. There are more than 4,000 entries thus far to choose from, the contest a sort of big-tent "file under fun" effort by Toyota to increase connection for fans with their NASCAR brand — the car design that gets the most votes will be showcased at the Phoenix race later this year, and designers will get comp tickets and accommodations for the trip, a nice way to potentially spread the word about the the 17-year-old Minnesota native's achievement.
McCarter reports you can vote for the "Jazzy" car design (click "view the gallery," then search "Jazzy") once a day through mid-August.
It looks like she'll be at Truckers News' Fit for the Road booth at the Great American Trucking Show Aug. 26-28, too, perhaps participating in a FFTR 5K run the 27th — if all goes well, so will I.