A new program sheds intense light on driver crash and inspection records. For good drivers, safety equals bargaining power for pay.
Since its launch in May, the Federal Motor Carrier Safety Administration's new Pre-Employment Screening Program has been used more and more by carriers, as well as owner-operators and drivers. More than 2,200 motor carriers have subscribed to the service, says Elizabeth Pemmerl, representative of Olathe, Kan.-based NIC Technologies, which administers the program for FMCSA.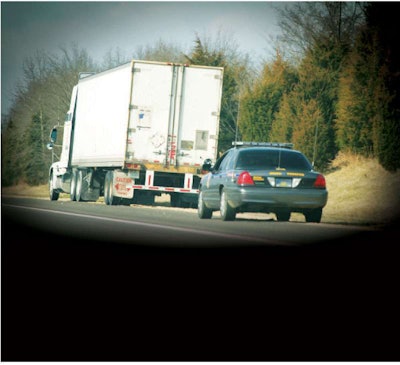 While the familiar DAC reports focus on employment history, the PSP offers a history of U.S. Department of Transportation contact with drivers. This includes three years of driver, vehicle and hazmat inspections and five years of crash incidents. Based on data contained in the Motor Carrier Management Information System database, updated monthly, the PSP's live reports give carriers their first opportunity to look at an individual's inspection history.
Since even seemingly minor marks on an inspection report may affect carriers' safety performance scores under Comprehensive Safety Analysis 2010, carrier interest in the PSP has been high, averaging more than 3,000 report requests a week.
"Our highest adoption rates have come from CSA 2010 pilot states," says Pemmerl. "As carriers review their screening process, they are adopting PSP in hopes of improving their CSA 2010 scores," which are tied to the seven Behavioral Analysis Safety and Improvement Categories, or BASICs.

One such carrier, Transport America, headquartered in Eagan, Minn., a CSA pilot state since May 2009, has begun using PSP reports at the final stage of reviewing lease candidates, says Director of Safety Gary Falldin. "If we see a driver with log issues in the past, we'll sit down and make sure they understand where we stand on logging. In the past, that driver would have been hired and we'd never have known about the problem. But now, we'll likely still hire him but we know about the problems, and we can help him fix them."
Prime Inc. Director of Recruiting John Hancock agrees. "Seventy to 80 percent of the data we've never seen before," he says. The Missouri-based motor carrier is utilizing the PSP to cross-reference applicant-provided employment histories and exploring other potential uses. Hancock also notes the PSP's potential use in helping safety personnel identify where to enhance training.
The program's relationship to CSA 2010, scheduled to launch in November, makes a clean PSP report an attractive document for a carrier considering leasing an owner-operator. In a Truckload Carriers Association meeting in August, Dart Transit Safety Director Elaine Briles said she could easily envision a day when owner-operators approach carriers with their PSP and say, "I have a perfect PSP. How much are you going to pay me?"
"The good, safe drivers are going to be in a position where the balance of power between the carrier and the driver is going to shift dramatically."
— Steven Bryan, CEO of database company Vigillo
Steven Bryan, CEO of database company Vigillo, also sees this development as "a ray of sunshine" for drivers. Vigillo, which has been offering carriers estimates of their BASIC scores since October 2009, is planning a data analysis product for drivers that contains a computation of driver CSA 2010 scores based on PSP data.
"What drivers will have is a report that says, 'Hey, I'm a good driver, and I can prove it,'" Bryan says. "They'll have their roadside resume to go to their employer, and say, 'I can do this job.' " Add that to reports of a coming driver shortage and, Bryan adds, "the good, safe drivers are going to be in a position where the balance of power between the carrier and the driver is going to shift dramatically."
That hasn't happened yet, says Joe Rajkovacz, regulatory affairs specialist for the Owner-Operator Independent Drivers Association. "People should be looking, and people aren't," Rajkovacz says, noting cases where operators have seen faulty marks on their reports.
"In some cases where our members wanted help, we found bad data," he says, such as "inspections attached to them that were not theirs. Data quality with FMCSA has always been an issue. That is a big reason why people should be looking at the data."
PSP information falls into two main areas: crashes and inspection.
Crash activity information on a PSP report is based on a driver's most recent five years on the road. The crash "details" section does not include if the accident could have been prevented or details about who was at fault. The issue of how no-fault crashes affect driver and carrier scores in the Crash Indicator BASIC in CSA 2010 is still of concern to the industry. Though FMCSA has insisted that any crash, regardless of fault, should be considered as an indicator of a carrier's likelihood to be involved in a crash, generally, they are well aware of the industry's concern and are reviewing potential changes.
David Lewis, leased to Prime, was involved in a crash in June when a pickup crossed the center line of a two-lane highway and totaled his truck, killing the pickup's driver. "I couldn't get over any more to miss him and he hit me head-on," says Lewis, who's based in Indiana.
Don Lacy, Prime's safety director, says this incident and a separate not-at-fault fatality accident involving another driver pushed both drivers' CSA 2010 Crash Indicator scores to the maximum in software Prime uses to manage its safety scores.
"I get the same amount of points as if it was my fault," says Lewis. He is wary of future insurance implications for individual owner-operators, should the driver system FMCSA uses ever become public or insurance companies demand driver-score approximations from fleets as policy contingencies. "Once you get that high score, I can see insurance companies not wanting to insure the driver."
PSP reports' inspection information section is based on drivers' DOT contact over three years and, like all information on the PSP, is updated monthly. All violation codes are available at this FMCSA web page: mcmiscatalog.fmcsa.dot.gov/d_ins_CD.asp.
Most seem self-explanatory except for the "Local Laws (General)" violation description, which Pemmerl describes as a catch-all for local laws that don't have a correlating violation in MCMIS coding. They can vary widely, she says. For instance, violations related to container and chassis registration have shown up on driver PSP reports with the notation.

"We're not getting those calls of people saying, 'How do you do this?' That's a huge mistake."
— OOIDA's Joe Rajkovacz on the dearth of owner-operators checking out their PSP reports.
Any unspecified violation for which a driver could argue the question of responsibility, such as maintenance items a company driver could not possibly uncover on a pretrip, or that is clearly in error, can be challenged. OOIDA has seen an owner-operator's PSP show an inspection in California, though he had never been in the state, says Norita Taylor of OOIDA. She says OOIDA can assist its members in challenging such errors. n
How to request your PSP record
• Gather driver's license numbers from every state you've lived in during the past five years. You'll need to perform searches on each CDL number.
• Have a credit card handy for payment. The fee is $10 for one report, which can include multiple licenses.
• Visit www.psp.fmcsa.dot.gov.
• Click on Operator Applicant and follow directions.
How to challenge PSP information
• Visit FMCSA's DataQs page (dataqs.fmcsa.dot.gov) and register for access.
• Click ADD A CHALLENGE and enter a challenge for each incorrect piece of data.
• Select the appropriate reason for why the crash or inspection should be corrected and click CONTINUE. For instance, if you're challenging inspection information assigned wrongly to you, select INSPECTION – COMMERCIAL DRIVER DATA. There is a help file on the site for determining which challenge type to select.
• As you list reasons for challenging the data, include as many details as possible.
• Submit the challenge. Your entry should now appear on your list of challenges on your main DataQs page. You can view the information by clicking on the challenge ID.
• When the appropriate agency responds, you will receive e-mail notification.
Latest changes raise risk for independents
Some large to mid-size carriers spent the last year lobbying for changes to CSA 2010's scoring methodology. With some of those changes in effect, the FMCSA intervention risk is greater for small carriers, including owner-operators running under their own authority, says log-auditing and CSA 2010 data analysis firm RAIR Technologies.
Changes ranged from adjustments to point values assigned particular violations to the peer groups used for scoring in the individual Behavioral Analysis and Safety Improvement Categories, or BASICs.
In the RAIR analysis, changes to the scoring methodology that began in August largely benefited carriers with 16 trucks or more. The changes "make the larger fleets look better in the Crash Indicator and in [the Unsafe Driving BASIC], but they make the very small fleets look much worse," says RAIR President J.J. Singh. His company determined carriers with five or fewer trucks were 50 percent more likely to experience FMCSA intervention than they were before the changes. Conversely, the largest carriers, with more than 500 trucks, were over 40 percent less likely to see FMCSA action.
At Prime, with more than 4,000 leased and company trucks, says Don Lacy, the CSA BASIC score estimates he was getting from database miner Transportation Performance Inc. changed significantly in some instances as FMCSA adjusted its methodology. The company went from marginal in four BASICs to only two, cargo-related and driver fitness, where the changes were limited. But in unsafe driving and controlled substances, says Lacy, where FMCSA changes were significant, Prime fared better. "They're getting it where it's more fair," he says.
While small carriers may experience more intervention after the changes, they're still least likely to be targeted for interventions, according to RAIR analysis. Joe Rajkovacz of the Owner-Operator Independent Drivers Association explains that for a one-truck operator with his own authority to even receive a score in the BASICs, he would need to have had three to five inspections in the previous two years, which is usually "just not happening."
Unlike leased owner-operator/company driver PSP reports, accessing CSA 2010 data for independents and small fleets requires no investment but time. Previews of scores in the CSA 2010 BASICs have been available since Aug. 16, though only to those independents and fleets. "And if you're a one-truck individual, you don't need to be paying anyone to do it for you," says Rajkovacz. These scores, excepting the crash indicator, are scheduled to become public for independents in November.
How independents can preview CSA 2010 scores and data
• Have on hand your DOT number and a U.S. DOT-issued PIN for login. If you don't have a PIN, you can request one via safer.fmcsa.dot.gov. You will need a credit card for ID purposes. The PIN will be mailed to the address for your business on file. Be sure to request a U.S. DOT Number PIN and not a docket number PIN, a common error.
• Visit csa2010.fmcsa.dot.gov. Click CSA 2010 DATA PREVIEW and follow instructions.
• Should you need to challenge information, follow the same process detailed on Page 21 under "How to challenge PSP information."
+50,000 Driver reports requested by carriers in the first four months of the Pre-Employment Screening Program.
100-200 Weekly number of driver requests for PSP reports during August, according to NIC Technologies, which administers the program for FMCSA.
+50% The extent to which risk of intervention increased for fleets of one to five trucks after August CSA 2010 methodology changes, according to RAIR Technologies analysis.
-42% The extent to which fleets of more than 500 trucks' risk of FMCSA intervention decreased after August CSA 2010 methodology changes, according to RAIR Technologies analysis.