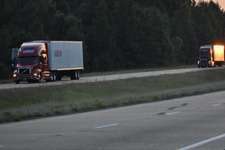 While the economy continues a weak recovery from recession, the transportation industry has already experienced a good recovery, according to an FTR Associates consultant in a Dec. 2 online seminar.
Noel Perry forecast freight growth in 2011 will average 4 percent, with some quarters hitting 7 percent. As the freight bounces back, Perry said, two factors are working in the opposite direction: Trucking managers are being conservative in adding capacity and federal government regulation will hold back capacity in the future.
What was once a record surplus of 170,000 trucks ready to haul freight in 2009 has moved to a "period of significant shortage of around 100,000 units" that will increase to 250,000 units in 2011 and 400,000 in 2012, Perry predicted. That shortage will be about twice or more what it was in the last recession in 2004, he said.
Another force facing the industry to meet future freight demands will be finding drivers. Perry said the industry needs "five million contacts per quarter" to hire the 150,000 drivers required to fill openings. That recruiting and training bureaucracy has shrunk due to the recession and will take time to rebuild. "It's very likely we will have a shortage of 150,000 by late 2011," he said.
Government regulation will also impact capacity. Impending changes in hours of service regulations and the introduction of Comprehensive Safety Analysis 2011 are expected to weed out drivers. Upcoming requirements for proof of citizenship or residency to obtain a CDL will further squeeze capacity, Perry said. The shortage will be far worse than what was experienced in 2004 and could reach 400,000 positions by 2012.