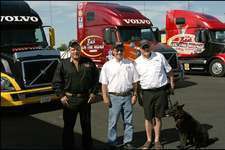 Arrow Truck Sales will accept nominations through Dec. 5 for its Back On The Road 2011 campaign, presented by Volvo Trucks North America.
In its fourth year, Back On The Road is designed to help a deserving trucker in need of a truck and a job. Country music singer Aaron Tippin is again lending his support to the program, and will help select the winner. 
 
"Truckers are the backbone of our nation's economy," said Steve Clough, president of Arrow Truck Sales. "We're proud to help a deserving driver climb back in the cab and start hauling again."
 
Arrow is soliciting stories from truckers who may have lost their truck and their livelihood through unfortunate circumstances beyond their control. The 2011 campaign will also consider nominations for truckers who have served as champions for the profession and the trucking industry.
Applications include a compelling 250-word story explaining why the nominee deserves to win. Stories about family loss, loss from natural disaster or a recent return from military service could be considered valid story submissions.
The trucker whose story is selected will receive a one-year lease on a Volvo VNL tractor, courtesy of Volvo Trucks North America; a one-year work agreement with Heartland Express; and other products and services.
 
"Winning Back On The Road was the best thing that could have happened to me and my family," said Robert Snyder, Arrow's 2010 Back On The Road winner. "I now have a steady income, a great truck, and I get to see more of my family. I encourage anyone with a worthy story to apply."
 
In addition to the truck and work agreement, the winner will receive:
•        X One XDA Energy tires from Michelin
•        TriPac auxiliary power unit from Thermo King
•        Monthly $500 fuel cards from Pilot Flying J
•        Business consulting tools from ATBS
•        Insurance from Owner-Operator Independent Drivers Association
•        A 3-year / 300K-mile warranty from National Truck Protection Inc.
•        One year's worth of filter products from Genuine Volvo Parts
•        Custom truck paint job from Dickinson Fleet Services
•        Truck accessories and fenders from Minimizer Products
•        Memory foam mattress from SleepDog Mattress
•        Paint from Sherwin-Williams
•        Health assessment and check-ups from Roadside Medical Clinic & Lab
 
Arrow will accept nominations at www.backontheroad2011.com. The winner will receive a truck and prizes in March 2011 in Louisville, Ky.