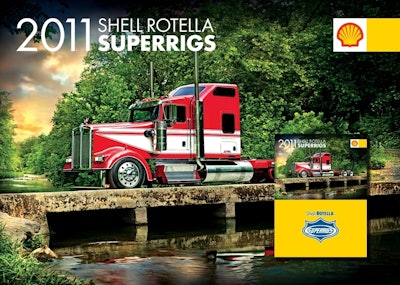 On the cover of the annual Shell Rotella SuperRigs calendar this year is the custom 2007 Kenworth W900L of Myerstown, Pa.-based Scott Diller. Featured also on the December 2011 page in the calendar, Diller's clearly going for an old-school '70s hot-rod look with the truck's mods, which include 34-inch quarter fenders and smooth side panels. The photo's tranquil setting is Mateer Bridge in Rockbridge County, Va., where the 12 trucks were photographed after Shell held its truck beauty competition at Lee Hi Travel Plaza in Lexington this past summer.
Through December, the calendar is available to haulers with the purchase of a Rotella Triple Protection, T5 or T6 oil change at participating locations, while supplies last.
Otherwise, check out pictures of all the rigs in the calendar on this page at rotella.com.