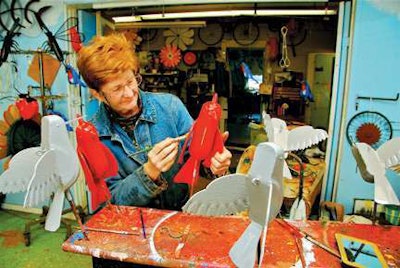 Long Neck, Del.-based Judy and Lou Hagen, according to the latest in the Delaware Cape Gazette's "Saltwater Portraits" series of profiles of community residents, came to their current metalwork artistry while running long-haul through Georgia in 1999. They saw "a piece of crude metal art," writes reporter Ron MacArthur.
"We came home and did some Christmas pieces," Judy (pictured, photo by MacArthur) told the reporter, which birthed "2nd Time Designs," as their operation on Route 24 in Long Neck is dubbed. They retired from trucking finally in 2006 as fuel prices began their long climb to 2008 heights.
MacArthur notes that their home's front yard has become something of a tourist stop on 24, festooned with their brightly-painted pieces, built mostly from scrap metal. Their success is such that their work has been featured in the "Blue Ball Dairy Barn Folk Art Museum in Wilmington, the DuPont Nature Center at the Mispillion Harbor Reserve near Milford and the Ward Waterfowl Museum in Salisbury, Md.," MacArthur writes. "Fifteen pieces are used to help troubled children see objects from a different point of view at the Children's Guild in Baltimore."
Their perhaps biggest achievement is placing a piece in the American Visionary Art Museum in Baltimore, Md. Pretty good for the retired team drivers, I'd say. Click the thumbnail of MacArthur's portrait of Judy Hagen above for his fuell story, a rich portrait of a couple American originals.
Read my piece about Miller Lime Service driver/woodworker Jeff Miller from earlier this year.