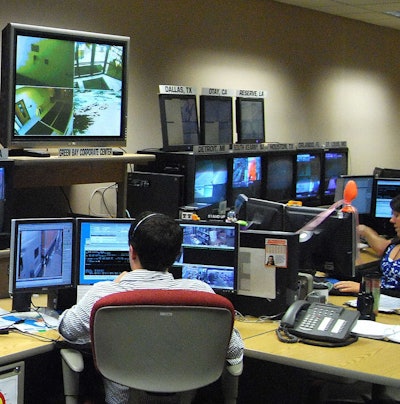 When I visited Schneider National's Green Bay, Wis., headquarters in June for the carrier's 75th-anniversary celebration, I got an up-close look at one of many efforts the company's put in place over the years to enhance the security of its customers' cargo in transit and at each of its 15 domestic facilities. Gate-security ground zero in Wisconsin allows 24-hour surveillance monitors to keep tabs on the comings and goings at 15 yards around the country. Schneider has seen success in combating a problem that company Director of Enterprise Security Walt Fountain says can be "like water sometimes. Thieves get into something and it just keeps on coming and coming."
Other measures the company has taken to combat the cargo theft problem, which I reported on with the rest of Truckers News' editorial staff in the September 2010 issue, has resulted in a large decline in theft losses for the company in the last couple years, something they can be proud of. Read my interview with Fountain below for some of the keys to the good results.
Todd Dills: As you've seen it in Schneider operations, is load theft growing in frequency these past few years or have you done enough in the area of preventive security to keep a lid on the problem?
Walt Fountain: Certainly it's our perception, from our own personal opinion and talking with colleagues, that cargo theft is on the rise throughout the industry. It seems like it's always too high, but certainly I'm seeing a lot more discussion of cargo theft and a lot more sharing of information. My perception could be just based on a lot more collaboration occurring. On the other hand, I've seen that folks like FreightWatch and others who do track the statistics for the industry as best they can believe there's been a 12 to 13 percent rise in each of the last few years.
As that affects us, in 2009 we had a spectacular year. We reduced theft costs by 75 percent, and this year, we're a bit off that achievement but are having a good year. Last was our best year going back the past 25 years. This year will be our second-best year. We've had some pretty good success here as of late. I think that there is a propensity among the criminal element to shift toward cargo theft as their genre mainly because most jurisdictions treat it as a victimless crime. No one's bleeding in the street, and that's wonderful, but when they catch the thieves, they give them a bit of a pass. There's a belief among the criminal element that when you're caught in a cargo theft, you can just do your short time and get back to business.
What measures specifically go into your security efforts, and do you attribute the 2009 decline to those efforts or did a fall in freight volume with the recession have a good bit to do with it?
Certainly, that reduction in freight volumes gave us less product to be at risk, but as we normalize for the volume, we still saw a significant decrease last year. We attribute it to the efforts of our drivers, both last year and this year. They've become our first line of defense by doing the things we ask them to do. Two years ago, we started sending them weekly security messages — what we're seeing, where the thefts are occurring, what kinds of thefts are occurring, etc. We think that's engaged our drivers. It's opened up that conversation and ensured they understood that we're all in this together and we need their help and appreciate their professionalism.
What cargo security training or measures involve Schneider National drivers directly?
We do three-way calls – the driver, the driver's leader and the customer service rep on the load all are on the call together to make sure everybody understands how the load is going to move, the coordination of drop points and the importance of stopping in secure locations. They all have that discussion — it's extremely valuable and really a best practice that can work throughout the industry. We do it for all high-value loads and expedited loads — our team freight. Our assumption is that the customer is hiring a team for the security and for the critical loads.
On the communications piece, we've made a real point of engaging our sales force in getting conversations with the customer started. We talk with them about their supply chain, where the weaknesses are and how we can mitigate those weaknesses. When you have a complex supply chain with different modes, you can create vulnerabilities when one part doesn't know what the other is doing. For example, one customer began marking a load as high value by putting a special seal on it but the rest of the chain didn't know that was happening.
What' s the number-one thing drivers can do to avoid becoming a victim of cargo theft?
Staying alert — complacency is the thing that gets us most in trouble. No matter what we do — be it home improvement in the backyard or moving a high-value load — complacency causes the problems. Stay focused on threat-prevention practices. We talk to drivers about not talking about their load or its destination and advise them to be suspicious of people asking about what they're hauling or where they're going. We talk to them about the propensity of thieves to work the truckstops and high-value freight facilities. We also recommend that they back the trailer against a wall or a post or work with other Schneider drivers to back against each other.
We also make available a fairly simple item in an air cuff lock to protect tractor and trailer. It's hard to move the tractor and trailer when the brakes are engaged, and with the very high-value loads, thieves are mostly interested in getting the whole piece. On the other hand, you still get the snatch-and-grab guys. Because that's obviously still a risk, we try to make sure that we don't offer up the entire load and keep everybody out of the back of the trailer as best we can.
And there are many simple things everybody can easily do. We reinforce with the drivers the expectation and requirement that they inspect their trailer before they move. That way they'll notice if there's been a break-in and quickly get law enforcement involved. Park up by the fuel island so that somebody may be more likely to notice suspicious activity. Don't park in the back line.
Some of it is common sense. Our professionals out on the road know the right thing to do; they know when something doesn't look right. They call 911 when they think they're being followed, or when they see a fellow trucker in the situation. Just last week, one of our drivers called in a situation they observed, and law enforcement recovered 99 percent of a load of perfume being hauled by another carrier. We encourage our drivers to get involved — the road is like their living room, if they see something that doesn't look right, they know it immediately.
In the area of federal investigation and attendant codes and regulations, what is needed to help deter cargo theft? What is your view of the effort by the National Cargo Theft Task Force to emphasize public/private collaboration to combat the problem on a national level, and how involved have you been with them in their recent efforts?
We've been involved with the task force pretty much since the beginning — they've been around for about 5 or 6 years. I certainly applaud and support the effort; in fact, I just met with them at their annual meeting last month in Washington, D.C. They can be proud of some success. I know ATA is also very supportive of [the implementation of the federal Uniform Crime Reports cargo theft code]. I think, long-term, that will be helpful for us to get our arms around the problem.
Some of the task force's other initiatives will have a more direct impact. Their regional theft task forces are a good example, as those are very successful. It would be great to see direct federal participation in that. We certainly appreciate what federal agencies have given to pay for officer overtime for these task forces. Essentially, you get folks who understand the problem and have the knowledge and the tools to take on the cargo thieves head to head.
Sentencing guidelines is the other thing — if they could get more strict sentencing guidelines for cargo theft, that would most definitely deter the thieves. I've suspected cargo theft is popular with guys who were into moving drugs and the heat got too hot. We've done something to address sentencing guidelines for drugs, and now the guys are looking for something else to steal, something else to focus on. In most cases, if they don't have multimillion thefts that can be proven, we're lucky to get a year of time for these guys at most. Cargo theft clearly undermines our economy and the fabric of our nation. In addition, refrigerated consumables, over-the-counter pharmaceuticals and food and beverage products are often targeted by these thieves, who can easily sell them after they've been tainted. The leadership in the task force are bringing that message forward, and I would like to think that our legislators and others are beginning to hear that message.