7.5 million safe miles

Teen-aged love affair with trucks launched long career for David Stump.
In ninth grade, David Stump's owner-operator father allowed him to occasionally team-drive his KB-8 International straight truck.
"I loved it," says Stump, of Newburg, Pa. "I would have driven for nothing. We would both sleep across the seat, or one would sleep while the other one drove."
That was the beginning of a lengthy career that enabled him to reach an achievement few drivers ever do – more than 7.5 million accident-free miles since 1965. He attributes all those safe miles to his habits of pre-trip inspections, diligent preventive maintenance and slow driving.
It also helps that he enjoys his work. "I love the people I'm around," says Stump, who celebrates his 71st birthday this month. "I love my truck."
His long career reflects a strong work ethic rooted in family farming. As Dunkard Brethren (also referred to as German Baptist Brethren), Stump's father kept a full beard and his mother wore a bonnet. Stump's parents, like many Dunkards, worked a small farm near Dillsburg, Pa., and that's where Stump got his first work, at 5. Later, he and brother Wayne, who also became a trucker, worked his grandparents' nearby farms every weekend.
When Stump left school at 16, Pennsylvania allowed him to drive a truck solo intrastate if he had a driver's license, was unpaid and passed a physical. He drove team with his dad, hauling industrial machinery, or with other owner-operators, to New York City and sometimes farther. In turn, his dad made payments on his car.
After active duty with the Army National Guard, Stump married Beatrice Mae Wagner in 1959. The couple had four children.
In 1960, Stump bought his first truck, a new Mack B61, and hauled steel for Ohio-based Ace Doran Hauling and Rigging. In 1962, he began hauling building material for Ohio-based White House Trucking, which has since closed.
After totaling the B61 in his only chargeable accident in 1965, he got his first meat-hauling job as a company driver for Pennsylvania-based Shumaker Trucking. When he bought a 1973 Kenworth Conventional in 1976, he continued meat hauling while leased to Indiana-based Safeway Truck Lines.
Glen Peachey, owner of Pennsylvania-based Peachey Transport, remembers when Stump hauled meat for him from 1984 to 1988. The owner-operator was respectful, punctual and kept his equipment in pristine condition, he says. "He is top-notch," Peachey says. "A lot of customers requested him."
One such customer is Nebraska-based Omaha Packing Co., where Darla Zemula first met Stump when she began at the company in 1992. "As soon as we load him, we don't have to worry abut the load," says Zemula, who now works in sales. "He has a personal attachment to customers, takes that extra time and is extremely polite."
The Star Markets chain, later purchased by Massachusetts-based Shaws Supermarkets, recognized Stump for a decade of on-time service in 1990. Stump emphasized that truckers should demonstrate respect to customers, because they may ask drivers not to return.
Stump's wife died from cancer in 1986. That year, he bought a 1984 Autocar and later leased to Kevin Ryman Trucking of Pennsylvania from 1988 to 1992.
In 1989, he married Susan Lebo-Moose, who encouraged him to get his own authority because she believed he would be happier and more successful as an independent. He began hauling meat under his own authority in 1993, and netted $66,300 in 2009.
In turn, Stump convinced Susan to earn her CDL, and she drove team with him until 2007. She continues keeping his books while employed as a full-time Lowe's nursery specialist and serving as mayor of their 372-resident hometown.
He credits their success in marriage and in working together to love. "I try to do more for her than she does for me and she tries to do the same," Stump says.
In 1992, he bought a new Peterbilt 379, a model he would stick with when buying his next two trucks. Stump entered it and his 1993 Great Dane trailer in a Carlisle, Pa., truck show, winning three trophies.
Owner-operator Kent Miller of Lewistown grew up knowing Stump and in 2005 leased to him for one year. Stump is a model of professionalism and has combined those skills with clean living and dedication, Miller says. "His kindness is unbelievable," he says. "He'll call and encourage me. He builds on the positive things of life."
As for retirement, Stump says he will quit when he believes he is no longer doing his job well. "I'm thankful for what trucking has done for me," he says. n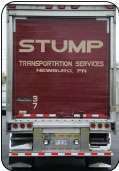 DAVID STUMP
Dec. 25, 1939: Born in Yorktown, Pa.
1960: Bought first truck.
1969: Earned American Trucking Associations' three-year Safe Driving Award.
1978: Receives 12-year Safe Driving Award from American Trucking Associations.
1990: Star Markets recognizes Stump for service.
1993: Obtained his own authority.
2006: Receives citation for his work from Pennsylvania Rep.Will Gabb.
Trucker trivia
TRASH RECYCLING is one of Stump's hobbies. A trucker friend driving a couple hours ahead of Stump once called to tell him that he left a broken air governor at a rest stop trash can. Stump snagged it. Friends kid him about his frugality, but he laughs all the way to the bank, sometimes netting $400 a recycling trip.
STUMP'S FITNESS ROUTINE includes bicycling, walking and a 6-mile weekly jog. He is learning golf and tried to learn to swim, but his swim teacher, one of his 15 grandchildren, lost hope, Stump says.