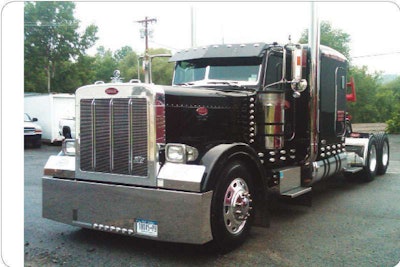 Phoenix No. 12
This 2007 Peterbilt, owned and operated by Clifford Hay, of Cobleskill, N.Y., is one of three trucks he purchased as his business rose from the ashes of a fire that destroyed his garage, four trucks, a trailer, two motorcycles, a four wheeler and all of his tools, tires and equipment. The rig is equipped with a 550-hp Caterpillar and an 18-speed transmission. Hay hauls straw, hay and pallets.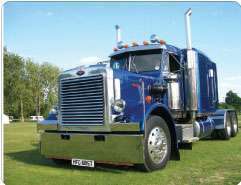 Class of '79
Father and son team David and Mark Wearing, of Oxford, England, bought this 1979 Peterbilt 359 in 2003 and transformed it into a show truck. Previously, it was a working tractor on a farm in Kansas. The 359 is equipped with a 400-hp Caterpillar and a 13-speed transmission. "British people love U.S. trucks," David says, "as they're very rare out here."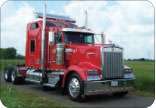 Old No. 17
Owned and operated by David Pope, of Greenville, Texas, this Viper Red 2003 Kenworth W900L is powered by a 475-hp Caterpillar and an 18-speed transmission. Part of a 45-truck fleet, Pope hauls refrigerated goods to and from California. Pope keeps his truck well trimmed and displays it at local shows, but he also plans to take it to bigger shows.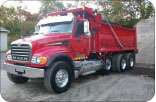 Mack Daddy
Brandon Martin, 25, of Garnet Valley, Penn., has been driving since he was 18. This 2006 Mack Granite, equipped with a 460 Mack engine and a 13-speed transmission, is Martin's first truck, which he uses to haul stone and blacktop locally. Martin has added LED lights and a 13-in. visor to the truck and plans to install 6-in. straight pipes.
SUBMIT YOUR PHOTO
To display your truck online and have it considered for Overdrive's Truck Gallery, go to the Reader Truck Gallery at www.OverdriveOnline.com.