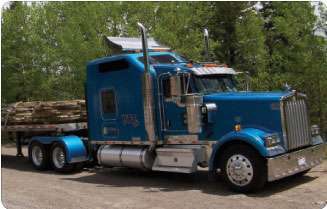 Mountain climber
Kathy Kelly of Parker, Colo., hauls construction materials, drill patch equipment and oversized loads in her 2007 Kenworth W900L, which she dubbed Whiskey For My Men, Beer For My Horses. The truck has a 625-hp Caterpillar and an 18-speed transmission. Kelly has been an owner-operator for 27 years and says most of her driving is done in the mountains of Colorado and surrounding states. Her truck has a refrigerator, microwave, laptop, printer, GPS and satellite radio.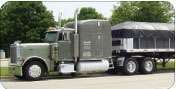 My Old Pete
St. Joseph, Tenn., resident Jerry Fox says of his 1990 Peterbilt 379 extended hood, "My old truck is like me – It's lost its luster and has a lot of miles on it." The 20-year-old truck hauls steel coils and is equipped with a 425-hp Caterpillar and geared by a 15-speed transmission. It has more than 2 million miles on it and is the only truck Fox has driven in the last 17 years. "It's still making me a living," he says.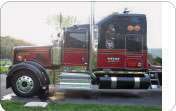 Chicken Hauler
Robert Shockey of Moorefield, W. Va., hauls chicken nationwide in his 2007 Kenworth W900. The truck is equipped with a 625-hp Caterpillar and an 18-speed transmission and has an 86-in. studio sleeper.
Tightwad's Toy
This 2003 Kenworth W900L is owned by William Robinson, of Atwood, Tenn. Robinson hauls grain and fertilizer throughout the Southeast. The truck is powered by a 475-hp Caterpillar and geared by a 13-speed transmission. Robinson, 37, has been an owner-operator since he was 22.
SUBMIT YOUR PHOTO
To display your truck online and have it considered for Overdrive's Truck Gallery, go to the Reader Truck Gallery at www.OverdriveOnline.com.