Bad Habit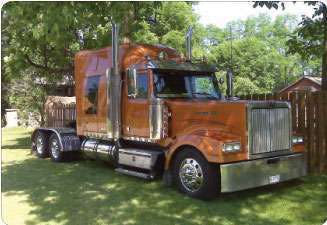 Tony Kubitz, of Wilmington, Ill., pulls tankers for Apolis Transport in this 2006 Western Star Lomax, powered by a 550-hp Caterpillar. Kubitz says Bad Habit is equipped with "most of the comforts of home," as his cab features a TV, DVD player, microwave, satellite radio, refrigerator and a 2,500-watt inverter. Kubitz added full fenders, stainless mud flap bars and super-single tires in the back.
Big Pete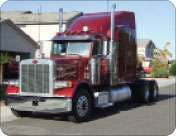 Graham and Suzanne O'Donnell, of Phoenix, own this 2006 Peterbilt 379, equipped with a Cummins ISX. The couple has several exterior upgrade plans in the works, including adding a bull bar, 7-in. straight pipes and "other chrome."
Lucky Charm
Arnel Brown Jr., of Shiro, Texas, uses his 2008 Peterbilt 389 to haul cross-country loads of cryogenic liquids out of Houston. Lucky Charm is powered by a 550-hp Caterpillar geared by an 18-speed transmission.
Money-making motor home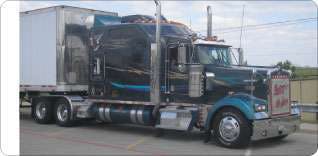 Team drivers Robert and Julie Badker, of Osage, Iowa, call this 2006 Kenworth W900L their "motor home that makes money." The truck features a 120-in. custom bunk and is powered by a 530-hp Cummins ISX geared by an 18-speed transmission.
SUBMIT YOUR PHOTO
To display your truck online and have it considered for Overdrive's Truck Gallery, go to the Reader Truck Gallery at www.OverdriveOnline.com.