Tar Baby
Brad Davies hauls hot asphalt and gravel in this 2003 Kenworth W900B quad axle dump truck. The truck, powered by a 435-hp Caterpillar and 8LL transmission, has a louvered SST grille, a graphic seven-color flame paint job, a polished aluminum box, gold hubcaps and more than 140 LED lights that flash alternately when he is stopped in the road for a paving project.
Horse haulin'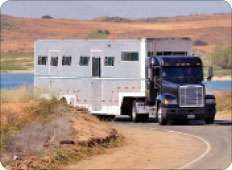 Chuck and Stacy Erb of Chino, Calif., own this 2000 Freightliner FLD, powered by a 400-hp Cummins. The Erbs run a horse transportation business, transporting an average of 130horses a month. The trailer holds 15 horses.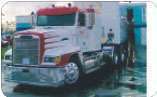 All Business
Richard Crenshaw of Saint Pauls, N.C., owns this 1992 Freightliner FLD 120, equipped with a 470-hp Detroit Diesel. Crenshaw is leased to Triple D Express and hauls general freight in 48 states. The truck has a flat top coffin sleeper, a wheelbase stretched to 245 inches and a 12-gauge custom bumper, among other customizations.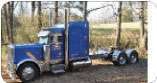 Tim's Toy
Tim Martin of Homer, Ga., averages 3,500 miles per week hauling bakery scrap in this 2001 Peterbilt 379 extended hood. The truck is powered by a 500-hp Detroit Diesel and a 13-speed transmission. Martin stretched the wheel base to 312 inches and covered the rails and catwalk in mirrored stainless steel. The truck also has 8-in. Dynaflex stacks with picket elbows, a 16- in. dropped visor, louvered grill tanks and boxes wrapped in stainless steel. Martin says, "My wife says I love it more than I do her!"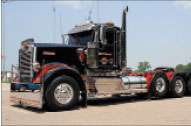 Shovelhead
Warren Nyland of Martin, Mich., owns this 1996 Kenworth W900L, which runs on a 550-hp Caterpillar and 13-speed transmission. The tri-axle heavy hauler, decked out in chrome, won Best of Show Working Bobtail at the 2008 Overdrive Pride & Polish in Louisville, Ky.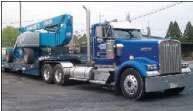 Git R Done
Mark Maida of Edison, N.J., hauls heavy equipment on a Landoll trailer behind this 1999 Kenworth W900L, owned by Defalcos Service Center. When he's not on the road, Maida says he polishes and performs any necessary repairs to prepare Git R Done for the show floor.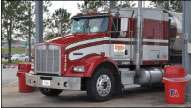 Wynne Transport
Wynne Transport of Omaha, Neb., owns this 2005 Kenworth T800, powered by a 475-hp Cummins and 10-speed Eaton Fuller. Jared Pierce has been driving the truck since last April, hauling diesel additives in 48 states and Canada. "They keep nice trucks and they take good care of them," Pierce says of Wynne Transport. Pierce says he washes the red-and-white striped truck once a week.

There are a lot more trucks where these came from! Go to OverdriveGalleries.com to see samples of outstanding working rigs and show trucks from the Custom Rigs and eTrucker.com galleries, as well as video clips. n