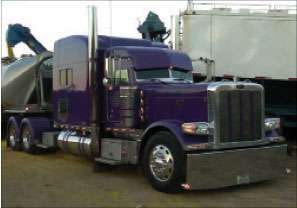 Few Dollars More
Bruce Smith of Kilgore, Texas, hauls frac sand in this 2009 Peterbilt 389 owned by Southern Transport. The truck is powered by a 600-hp Cummins and an 18-speed Eaton Fuller, and the trailer is a Stevens 2008 pneumatic tanker. Smith and Thomas Ivy, owner of Southern Transport, named the truck after the way Ivy continually invests in the truck's custom look. Few Dollars More won fourth in its category at the 2008 Great West Truck Show Pride & Polish. It has a flip bumper, custom rear bumper engraved with the company name, 8-in. straight stacks and an Outlaw Customs twisted chrome gearshift. "You can never have too much chrome," says Smith.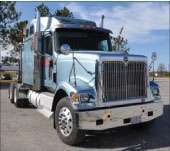 Big Bertha
Todd Easterling of Caldwell, Texas, hauls steel coils and lumber from the East Coast to the Midwest for WTI Transport in this 2002 International 9900i. Big Bertha is powered by a 475-hp Caterpillar and a 10-speed Eaton Fuller. Easterling says he's looking forward to "dolling her up" by adding chrome accessories.

Rocky Mountain Equalizer
John Steed of Grand Junction, Colo., owns this 2004 Kenworth W900L, which took home first in its category at the 2009 Louisville, Ky., Pride & Polish. The truck is powered by a Caterpillar that has been modified to 1,500-hp and an 18-speed transmission. Steed's company, Henderson Heavy Haul, hauls windmill blades through the Rocky Mountains. His son installed LED lights on the roof; powder-coated the grille covers, bumper, fuel tanks and steps; and added a custom headache rack, red brake drums and polished aluminum wheels to prepare the truck for show.

Hank's Highway Hilton
Hank Good of Monticello, N.Y., owns this 1981 Kenworth K-100C VIT Aerodyne, powered by a 500-hp Detroit Diesel. Good restored the old cabover, giving it a custom paint job and adding 232 Truck-Lite LED lights to the cab. An outline of his initials lights up on the grille. The working show truck has been to Holland, Germany, Sweden, Poland and Finland as part of an international good will truck show tour.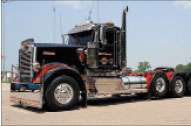 Shovelhead
Warren Nyland of Martin, Mich., owns this 1996 Kenworth W900L, which runs on a 550-hp Caterpillar and 13-speed transmission. The tri-axle heavy hauler, decked out in chrome, won Best of Show Working Bobtail at the 2008 Overdrive Pride & Polish in Louisville, Ky.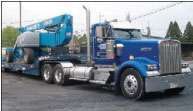 Git R Done
Mark Maida of Edison, N.J., hauls heavy equipment on a Landoll trailer behind this 1999 Kenworth W900L, owned by Defalcos Service Center. When he's not on the road, Maida says he polishes and performs any necessary repairs to prepare Git R Done for the show floor.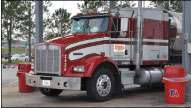 Wynne Transport
Wynne Transport of Omaha, Neb., owns this 2005 Kenworth T800, powered by a 475-hp Cummins and 10-speed Eaton Fuller. Jared Pierce has been driving the truck since last April, hauling diesel additives in 48 states and Canada. "They keep nice trucks and they take good care of them," Pierce says of Wynne Transport. Pierce says he washes the red-and-white striped truck once a week.

There are a lot more trucks where these came from! Go to OverdriveGalleries.com to see samples of outstanding working rigs and show trucks from the Custom Rigs and eTrucker.com galleries, as well as video clips. n