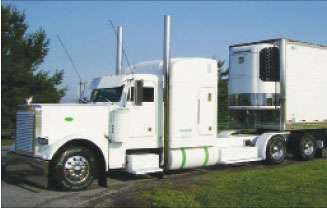 Three Rugged Crosses
Paul Rissler says he got a bargain when he bought this 1996 Peterbilt 379, equipped with a 525-hp Caterpillar. He customized it by adding a long hood, stretching the wheelbase from 240 to 304 inches and tricking out the interior, installing green and black upholstery for extra flair. The California, Mo.-based independent owner-operator says the truck, named after a favorite song, will make its truck show debut soon.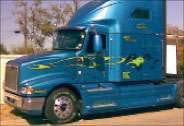 While I'm Waitin'
Owners Andres and Rocio Martinez, of El Paso, Texas, lent some of their enthusiasm for their 2007 International to its name, saying they can't wait to stop and polish the truck and touch up its neon-green tire lettering when they're on the road. The truck, which hauls dry van freight in 48 states, is powered by a 500-hp Cummins ISX and a 10-speed Eaton Fuller. Andres Martinez, leased to Mesilla Valley Transportation, says his wife Rocio picked out the custom graphics, while he chose the entertainment system, which is complete with a Playstation, DVD player and surround sound. The couple plans to install a blue dash panel and a custom gearshift soon.
Papaw's truck
This 2007 Western Star 4900ex, powered by a 515-hp Detroit Diesel, hauls dry van freight in 48 states and Canada in a 2010 Cornhusker trailer. Owner Reed Thompson is leased to Skyview Farms of Gothenburg, Neb., and has been trucking for 32 years. He is married with four children and six grandchildren, who call him Papaw.

Triple One
Jerry Beaudoin owns SRS National, a trucking company that hauls environmental waste to landfills in the Northeast, and Triple One is the star of his fleet. The 2007 Peterbilt 379 is powered by a 565-hp Cummins ISX and an 18-speed Eaton Fuller. The off-road rig gets shined up for beauty contests, where it shows off its low-base leather seats, twin stick shift, custom-built aluminum flat panels, custom paint job, suicide doors, painted and chromed motor, and remote control-operated revolving headlights.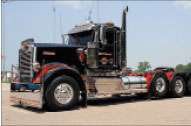 Shovelhead
Warren Nyland of Martin, Mich., owns this 1996 Kenworth W900L, which runs on a 550-hp Caterpillar and 13-speed transmission. The tri-axle heavy hauler, decked out in chrome, won Best of Show Working Bobtail at the 2008 Overdrive Pride & Polish in Louisville, Ky.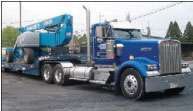 Git R Done
Mark Maida of Edison, N.J., hauls heavy equipment on a Landoll trailer behind this 1999 Kenworth W900L, owned by Defalcos Service Center. When he's not on the road, Maida says he polishes and performs any necessary repairs to prepare Git R Done for the show floor.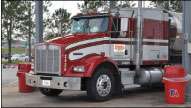 Wynne Transport
Wynne Transport of Omaha, Neb., owns this 2005 Kenworth T800, powered by a 475-hp Cummins and 10-speed Eaton Fuller. Jared Pierce has been driving the truck since last April, hauling diesel additives in 48 states and Canada. "They keep nice trucks and they take good care of them," Pierce says of Wynne Transport. Pierce says he washes the red-and-white striped truck once a week.
Submit Your Photo
To display your truck online and have it considered for Overdrive's Truck Gallery, go to the Reader Truck Gallery on the www.OverdriveOnline.com home page.