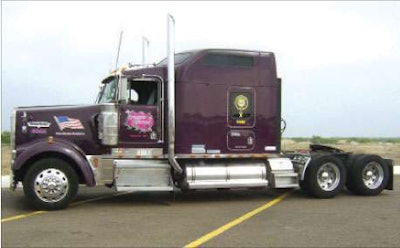 Richard Nardone, an army veteran from Kalamazoo, Mich., hauls military vehicles and other flatbed freight with this 2000 Kenworth W900L, powered by a 550-hp Caterpillar and 13-speed Eaton Fuller. He has installed custom cherry wood panels, added a 27-in. flat-screen TV, and installed eight speakers. He also outfitted his dash with a mahogany steering wheel from Victor Wheels of Italy. Nardone, an Italian-American, calls the truck American Pride. He plans to have a U.S. flag graphic painted on the truck soon. Nardone wins a hat, travel bag and license plate from United Pacific.
Tim's truck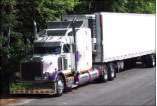 Tim Costen of Jacksonville, Ala., drives this 1999 Peterbilt 379, powered by a 625-hp Detroit and an Eaton Fuller Super 10. Costen has installed hardwood floors, a full-size refrigerator and freezer, a flip-up front bumper and five Nathan Air Chime train horns since he bought the truck 10 years ago. He hauls refrigerated freight under his own authority in the Southeast.
Boxcar
Alan Hamel of Suncook, N.H., hauls everything from lumber to pipe to fertilizer throughout New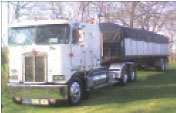 England in this 1988 Kenworth K100, equipped with a 400-hp Cummins and 15-speed transmission. "She is definitely a part of the family," Hamel says, "and soon to be passed on to my son, who will be driving her."
Coppertop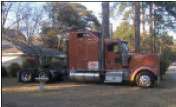 Joe Meyers of Savannah, Ga., transports overweight sea containers to and from local ports in this 2004 Kenworth W900L, powered by a 500-hp Caterpillar and 13-speed transmission. Loaded, the truck often tips the scales at 102,000 pounds, although Meyers says it pulls like it weighs only 70,000. The interior is saddle-colored with cloth insignia seats.
White
Ed DeFremery of Walnut Grove, Calif., hauled tomatoes and corn in this 1966 White. Made by the
company that closed in 1981 and once also manufactured sewing machines and cars, the truck is powered by a 250-hp Cummins non-turbo and an RT 915 15-speed transmission. It has a Williams compression brake. DeFremery says he rebuilt the truck from the ground up with wages he earned as an auto painter.
Submit your photo:
To display your truck online and have it considered for Overdrive's Truck Gallery, go to https://ballisticparts.com/ and click on READER TRUCK GALLERY.
There are a lot more trucks where these came from! Go to OverdriveGalleries.com to see samples of outstanding working rigs and show trucks from the Custom Rigs and eTrucker.com galleries, as well as video clips. n