One low wagon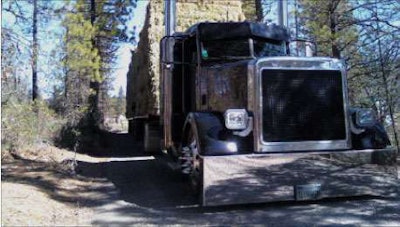 Owner of Arreche Hay Co. of Cedarville, Calif., Jon Arreche hauls cows and hay in this low-riding 1995 Peterbilt 378. Equipped with a 575-hp Detroit Diesel and a 13-speed transmission, the truck has a new air ride kit, flip-up front bumper and a two-door sleeper with an extra-wide Unibilt rear window. Arreche wins a hat, travel bag and license plate from United Pacific.
Number 6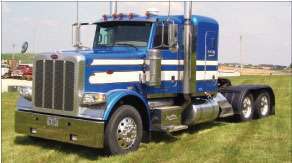 Chuck and Cheryl Reiter, of Cascade, Iowa, haul petroleum, gasoline and anhydrous ammonia for Sully Transport in the Midwest in this 2008 Peterbilt 388. The truck is powered by a 525-hp Cummins and 18-speed transmission and outfitted with a GPS, satellite radio and Webasto bunk heater.
Diamond Reo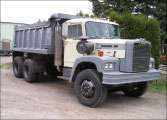 Wayne Berggren of Idaho Falls, Idaho, hauls sand and gravel for his own excavation company, Mountain Branch Construction, in this 1972 Diamond Reo dump truck. The truck runs on a 183-hp 6V53N Detroit Diesel and two transmissions – a four-speed and a five-speed. Berggren and his son Karl refurbished the truck, adding dual stacks and quarter fenders. They plan to rebuild an additional Diamond Reo, a 1971, this winter.
Little window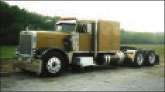 Kenny and Rhonda Reagan of Livingston, Tenn., own this 1970 Peterbilt 358M. Powered by a 400-hp Caterpillar, the antique truck boasts hardwood floors and a Spicer 6-by-4 transmission.
Blu Ice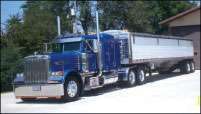 John Strehlow of Champaign, Ill., hauls Pioneer seed with a van and hopper in fall and winter, and asphalt for road construction in a dump trailer in spring and summer in this 2001 Peterbilt 379. The truck is powered by a 600-hp Caterpillar and an 18-speed transmission. The original owner, Strehlow has logged 1 million miles in the truck.