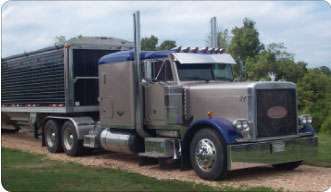 Old School Cool
Clifty and Heather Vanzandt of Seligman, Mo., own this 1995 Peterbilt 379 extended hood. The Vanzandts haul grain products in the Midwest with the Pete, which is equipped with a 600-hp Caterpillar and an 18-speed transmission. The truck has new paint and "lots of chrome inside and out," Heather Vanzandt says.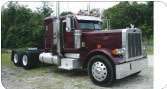 Truckin' Up
Blountstown, Fla., resident Rusty Tolley describes this 2006 Peterbilt 379 as "the finest ride you'll ever see with the load of logs." The truck is equipped with a 425-hp Caterpillar and an Eaton Fuller 10-speed transmission. Tolley hauls logs in north Florida and south Georgia to saw mills for Prime Energy Group.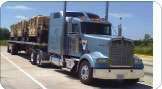 Humvee Hauler
Eddie Tucker of Cleveland, Tenn., hauls Humvees for the military in his 2006 Kenworth W900. The truck is powered by a 550-hp Caterpillar and a 13-speed transmission.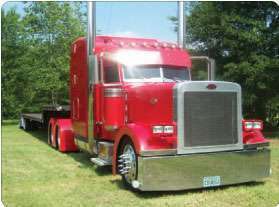 'Low Income Housing'
This 2002 Peterbilt 379, powered by a 625-hp Caterpillar and an 18-speed transmission, is owned and operated by Von Tompkins of Lee, Fla. Tompkins has been driving since he was 24 and has been an owner-operator for 15 years. He pulls a step-deck trailer, hauling "anything I can possibly get on it," he says, mostly in the Southeast. He recently painted his trailer to match his truck and added new fenders.
SUBMIT YOUR PHOTO
To display your truck online and have it considered for Overdrive's Truck Gallery, go to the Reader Truck Gallery at www.OverdriveOnline.com.