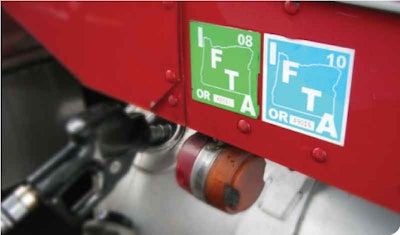 Slash your costs by knowing when and where to purchase fuel. And make sure you're getting the most value from a fuel card and a fuel surcharge.
There's no shortage of awareness in trucking about ways to cut fuel consumption – idle less, cruise slower, improve aerodynamics, maintain tire pressure. The other major way to cut the cost of fuel is simply to pay less for it. When you're spending $60,000 a year on fuel, consistently shaving cents per gallon can save thousands of dollars a year.
Buying fuel where it's cheapest, after deducting the state tax portion of the pump price, is a key strategy.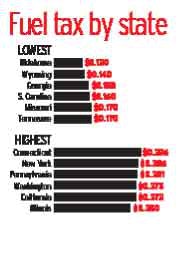 The International Fuel Tax Agreement between the United States and Canada facilitates the reporting, collection and distribution of taxes to states and provinces. You pay taxes every time you fuel, but your ultimate fuel tax bill is calculated according to where you drive. If you purchase fuel in high-tax states and drive most of your miles in lower-tax states, you will get a refund when you file your IFTA report.
You cannot lower your tax outlay unless you choose hauls that avoid high-tax states. What you have more control over is how much you pay strictly for fuel when the fuel tax is not considered.
"Take the tax out to see what the fuel's worth," says Canadian owner-operator Greg Decker, who's leased to Caneda Transport. "Where the fuel costs the least – that's where you buy the most."
He monitors the IFTA website (www.iftach.org) to track tax rates in each state. "Illinois is a good place to buy fuel," says Decker, who runs about 65 percent of his miles in the United States. "The pump price has a really high tax rate. So when I take out the tax it's cheaper to buy there than in Indiana by 6-8 cents a gallon."
On a trip of his last fall through Georgia and Florida, the pump price was 1 cent a gallon higher in Florida. But the tax rate was approximately 17 cents higher in Florida, so Florida's fuel was actually cheaper.
Fuel purchasing strategy also varies by whether you're leased to a carrier or running independent. If you're leased and your carrier handles fuel taxes, simply look for the cheapest pump prices.
At Dart Transit, like many carriers, independent contractors can choose to have the carrier handle fuel tax payments for them. Under Dart's program, different state rates are averaged, says Matt Doth, retention manager. Long-haul operators pay 1.2 cents a mile, while the short-haul rate is 0.6 cents a mile. Fuel optimization programs provide a more complete assessment of fuel-related variables in route planning.
Prime Inc.'s optimization program, run through its Qualcomm system, is optional for leased operators. It provides information on fuel cost, fuel taxes, tolls, miles and time for the trip. It looks at the operator's location, where he's going and when he needs to arrive, and downloads information about the rig. It has data on average mpg for the truck, fuel capacity, whether it needs ultra-low sulfur diesel and load assignment.
"It comes back with recommendations on where to fuel," says Verna Bailey, fuel manager. "It tells them how much to buy to optimize their tax rate, where to go for cheaper fuel, how much to buy and where to buy. It recommends stops in our charged network, which includes a combination of chains and independent stops."
For its independent contractors, Dart Transit offers a system that plots the shortest route and notes places along that route offering the cheapest fuel. Also, on Dart's website, contractors can click on a fuel tab, plug in cities, and find within a specified radius all the fuel locations from cheapest to most expensive, whether or not they are within Dart's network of fuel providers. "It will list the pump price and the Dart contractor price," Doth says.
National Association of Small Trucking Companies member fleets can tap into the association's directory of fueling stops to find the lowest prices. "Our Quality Plus program is really a fuel optimization program," says NASTC President David Owen.
Richard Smith, owner of a three-truck fleet in Central Iowa, tries to buy at truck stops in the NASTC directory on runs to Idaho, Utah and California and back. He assesses where the best discounts are and passes the information along to his drivers. "We will search out the cheapest price," he says, though sometimes other prices are better because of discounts.
One of the organization's tools is a Daily Fuel Hedge. Each weekday NASTC takes a reading of OPIS wholesale rack prices from about 400 fuel locations that becomes the cost basis for the next day's fuel purchases.
"We know the day before whether the price is going to increase or decrease," Owen says. "We text-message the drivers on our program with an alert that says to buy before midnight or after midnight."
Fuel cards issued by carriers, truck stops and organizations can save 3 cents a gallon and far more. Some discounts change frequently, even daily.
Mike Skurdahl, who runs under his own authority as Sun Chaser Transport, uses NATSO CheckLink and gets a 5-cent-a-gallon discount from the credit price at Love's Travel Stops & Country Stores, where he buys most of his fuel because of low prices. When buying at least 1,000 gallons a month, he also gets free coffee and showers.
Independent Henry Albert earns a cash price that is usually 6 to 7 cents a gallon less than the credit price by using his Truckers Advantage card through the Owner-Operators Independent Drivers Association. Bob and Linda Caffee, team drivers for FedEx Custom Critical, gain fuel price breaks negotiated by their carrier.
NASTL members use a FleetOne card as part of the group's Quality Plus Network of about 840 truck stops. In 2009, members averaged a 12 cents a gallon discount, says Owen. "Once they're qualified through our program, our members are buying fuel about as effectively as the big guys are," he says.
When evaluating discounts, make sure you know how the discount is calculated, says David Wolff, of owner-operator financial services consultant ATBS. For example, your carrier may get a 4 cent discount, but is that deducted from the sign price or the pump price, which sometimes differ?
Many fuel surcharges assume the truck gets 6 mpg. If your mpg is better than that, the surcharge will reduce your actual fuel cost per mile more than if your mpg is less than 6. The more the fuel price increases, the more you can reduce your fuel cost per mile if your mpg is better than the norm.
You can look at your fuel cost per mile and compare that with fuel surcharges being offered. If fuel is $3 a gallon and the fuel surcharge price base is $1.25, you would divide the difference by your base mpg. For example, divide $1.75 by 6 mpg and you get a little over 29 cents a mile, the amount you would be paid for fuel by the carrier, broker or shipper offering the surcharge. For every 5-cent increase in fuel price, your amount would increase by a little less than a penny.
That scenario effectively reduces your fuel cost from 50 cents a mile to 21 cents a mile. If, however, your mpg is 8, at $3 a gallon your real fuel cost per mile is 37.5 cents. The spread between 37.5 cents and 29 cents is about 8 cents – the gain you make in a surcharge due to your reduced cost per mile when running at 8 mpg.
Leased operators should be aware of how their carrier's program compares with others. Independents have more to keep up with, since fuel surcharges vary widely from carrier to carrier and from shipper to shipper.
"I don't necessarily look for a surcharge," says Albert, an independent. "You have to look at the rate per mile compared with another load that may or may not have a fuel surcharge. The bottom line is the amount per mile. Figure the end number."
Three major truck stop programs
Petro/TA Travel Centers' UltraOne. Discount varies.
50 gallons or more: Get shower credit; good for 10 days. With Platinum status of 20,000 points (one point per gallon), shower credit doesn't expire.
Pilot/Flying J's Pilot or FleetOne. 6 cents/gallon discount.50 gallons or more: Free shower; penny per gallon goes to driver loyalty program; points go toward purchases in retail store or restaurant; no transaction fee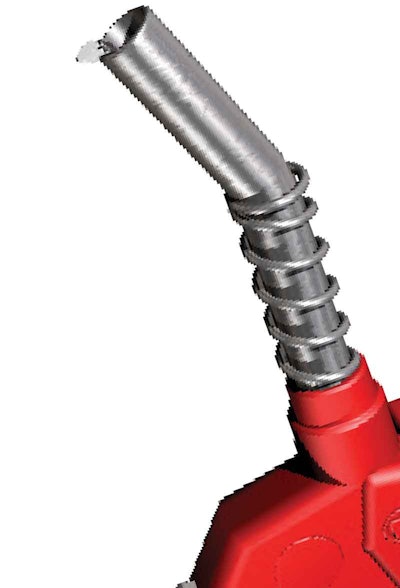 More tips on fuel buying
WATCH CASH FLOW. David Wolff of ATBS advises owner-operators not to tie up money needlessly in their fuel tanks when downtime of a few days or more is expected. If you know a low-price area is on your route, don't fill up at a more expensive stop but limit your purchase based on your mpg.
EXPLOIT ELEVATION. Independent Henry Albert tries to fuel at stops situated so that he will be traveling downhill as he leaves, allowing for quick acceleration and minimal fuel use. Climbing out of a truck stop means the opposite.
BUY THE RIGHT FUEL. If you're in areas where farm vehicles are prevalent, it may be hard to find ultra-low sulfur diesel. Check labeling if you buy from any outlet that's not clearly a truck stop. With 2010 engine technology, low-sulfur diesel would interfere with proper operation of the DPF and the SCR system, and could cause permanent damage.
BE CAUTIOUS WITH BIOFUEL. Biofuels tend to be expensive and produce lower fuel mileage, Wolff says. Know the level of biofuel (B20, for example, is 20 percent biofuel) allowed under your engine maker's warranty, and use only approved fuels. Carry extra fuel filters as biofuel can cause clogging.
MAXIMIZE STORAGE. Whether you're buying a used or a new truck, opt for larger, dual tanks. It gives you the option of pigging out on super-cheap fuel, and cuts down on the number of fuel stops, saving time. n
Love's Travel Stops & Country Stores' I Love Rewards. 5 cents/gallon discount.
50 gallons or more: One free beverage and shower. With Platinum status of 1,000 gallons or more: Free coffee and refills and free showers for a month; point per gallon redeemable after 500 points toward purchases in retail store and restaurant.