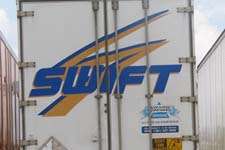 Swift Transportation is not required to disclose the precise amount of its chargebacks to owner-operators that represent markups or administrative fees as opposed to actual costs, a federal appeals court confirmed Jan. 20.
Based on litigation by the Owner-Operator Independent Drivers Association, Swift changed its lease agreements in 2008 to disclose that chargebacks would include certain administrative costs and other fees such as "the cost of the fuel, taxes, other government fees and charges, delivery/freight costs and administrative expenses." Afterward, Swift's settlement statements then listed those items but did not disclose what portion of that price is attributed to costs and what portion is profit, administrative fees or other charges.
The district court had accepted Swift's revised chargeback provisions, but OOIDA appealed to the U.S. Court of Appeals for the Ninth Circuit. The appeals court upheld the lower court's decision, citing, among other things, a decision by the U.S. Court of Appeals for the Eleventh Circuit in litigation between OOIDA and Landstar System. That court reasoned that if carriers charged a flat fee, no further disclosure of how a price is to be determined is necessary. If carriers charged a variable rate, the regulation requires a clear disclosure of how the price will be calculated.
The Ninth Circuit, however, declined to declare that all variable-rate chargebacks required disclosure of the amount of carriers' profits and costs. Instead, a carrier could identify some fixed benchmark, multiplier, percentage, markup or other formula that would allow the lessor to calculate his price without revealing how much of the markup contained profits versus other expenses, the court said.