With products becoming increasingly specialized, learn to pick the designs that fit your business and save money.
Just as a truck with improperly geared rears will incur extra costs for its owner, so, too, will a truck with the wrong tires. There are many more factors than size that account for having the right tire for a specific truck in a specific application.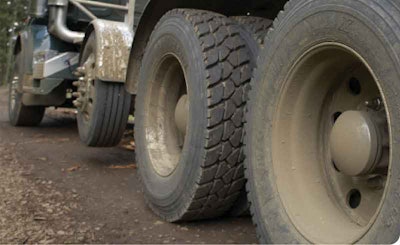 The variables to consider when spec'ing tires are many. Among them are the size and number of plies and related weight rating, the tread design, tread depth, tread compound and wheel position (steer, drive, trailer).
Smart spec'ing can save costs in two ways: lowering fuel cost per mile and lowering tire cost per mile. Attributes that lower one cost can have the opposite effect on the other cost, so spec'ing needs to be done carefully.
That's easier said than done in an era when specialization abounds. "There are more choices and more opportunities to optimize performance," says Guy Walenga, director of commercial products engineering and technology at Bridgestone/Firestone. "In such an environment, it's all-important for owner-operators to rely on the expertise of a good dealer salesperson to help them find just the right tire."
The industry is moving more toward "developing products that are ultra-specialized to precisely meet specific service options," says Giti Tire Technical Service Director William Estupinan. "There are versatile tires, however, that can offer a fair balance between two operating conditions if the conditions are close to each other on the spectrum, medium haul and regional, for instance."
Goodyear marketing spokesman Tim Miller says his company offers mixed service tires intended for high-scrub applications, like trash pickup, that also are rated for some off-road use with an 80/20 on/off-highway mix. Tires are available for the reverse mix, as well. "It is important to understand which situation the tires are designed to address," Miller adds.
Fuel economy
Cutting costs through fuel use usually holds more potential than through extending tire life. "Buying a low rolling resistance tire that wears a little faster to save fuel will save money," says Don Baldwin, Michelin Americas Truck Tires product marketing manager. "The ratio between the value of the fuel saved and the extra tire cost is 10:1."
He adds that some regional fleets are "going to long-haul steers for low rolling resistance rather than tires with more scrub resistance" designed for regional operation. The tires may wear faster, but they save enough fuel costs to more than cover the extra tire replacement costs, he says.
"Low rolling resistance, fuel-efficient tires only need to be considered for over-the-road operations that do very little starting and stopping," Miller says. "An off-highway truck or a pickup and delivery type truck would gain little fuel usage advantage from a fuel-efficient tire. On the borderline is a truck that runs in regional-type service."
He says the tread compounds that resist the abuse of on/off-road operation or the hard braking and abrupt and frequent cornering typical of pickup and delivery service tend not to be as fuel-efficient as tires designed primarily for efficiency.
Baldwin says, "The qualities that make for a good city tire tend to make rolling resistance higher. These include a deeper tread and compounding that enable the tire to handle scrubbing and impacts with curbs." But he thinks you should worry about rolling resistance even in the city because "it's not like aerodynamics. It varies with the load and distance you travel, so the drag effect is the same at any speed – a straight relationship – while aerodynamic drag varies much more with the speed."
Rolling resistance is a major factor, even at low speeds, says Giti's Estupinan. "Just as with air resistance, the actual amount of rolling resistance is influenced by many factors, including load, speed, inflation pressure, tread pattern, tire design and construction."
Walenga says tires designed for fuel economy that show a 2 percent improvement in highway fuel economy may show only a 1 percent improvement in cities. "The problem is that there is so much fuel used in acceleration and braking that rolling resistance becomes a smaller part of the picture."
Michelin's X One wide singles save 220 pounds per axle, Baldwin says. Consequently, they have fuel economy advantages in stop-and-go driving, where the vehicle and its cargo must repeatedly accelerate and then lose energy upon braking.
Tire size and weight rating
Size and the related weight rating are the most critical variables in tire spec'ing. "It's always smart to stay with what was specified originally," Walenga says of the size. "You'll see axle load listed on a placard on the vehicle. It may even list the specific tire size."
This is a critical point in avoiding citations and out-of-service orders, too. Whether tires on an axle are rated to carry the full axle rating is a part of the Commercial Vehicle Safety Alliance inspection criteria. "You'll be fined as an individual and as a company if the tires are not sized to the load," Baldwin says.
Walenga and Miller say you can easily check to make sure a size will do the job. Both refer to the data books that tire manufacturers publish, and Walenga adds you can go to websites of organizations such as the Tire & Rim Association (www.us-tra.org) to get a standard list of weight capacities and pressures. Consulting such a chart will help you determine the correct pressure to use for higher load range tires, too.
Also, keep in mind that changing the diameter of drive tires will alter your effective gear ratio, which might cause you to cruise outside the engine's sweet spot.
Tread pattern
"Nearly every tire choice is something of a compromise," Miller says. "In general, steer tires are usually rib-type tires with relatively medium tread depth. Drive tires, when traction on snow or mud might be a factor, tend to be more 'aggressive' with cross grooves (lugs) and deeper tread depths. If a fleet of over-the-road trucks never leaves Florida, the fleet would benefit (in both wear rate and fuel economy) from use of rib tires on every wheel position."
But any vehicle that needs extra driving traction in dirt, mud, slush or snow will be better off with lug-type drive tires for traction. "Tires for single-drive-axle tractors should be more aggressive than tires for tandem tractors, because there are only half as many drive tires," Miller says.
Walenga says, "If running well over 10 percent of the time off-road, even with mostly highway operation, you need an on-off road tire with a tread that's much more cut and chip resistant."
When a truck runs off-highway, "chipping and chunking of the tread are a possibility," Miller says. "This possibility is reduced with the use of tire tread compounds that resist such damage."
On the trailer, particularly in over-the-road operations, "run rib-type tires similar to steer tires but with even less tread depth," Miller says. "Too much tread on a trailer tire seems to result in the development of irregular tread wear that tends to shorten the overall life of the tire."
Keep in mind different shoulder designs' effect on wear rates and traction. "Solid shoulder drive tires can have center lugs for good traction," Walenga says. "The solid shoulders control irregular wear, while open shoulder designs have independent lugs that give better traction in snow, but move around." This means more susceptibility to irregular wear, and a greater need for perfect air pressure maintenance, he adds. "But most drivers won't know the difference, and in snowy mountain passes you're required to chain up anyway. And it's much easier to put chains onto closed-shoulder tires. Closed-shoulder drives with lugs in the middle give the best of both worlds."
On snow tires, Baldwin notes the practice of switching tires seasonally, using tires built for snow in the winter and "putting the regular tires on as early as March in some areas." But, he says, "We have also developed a snow tire you can run year-round. It will handle most snow conditions, and there is much less need to change back and forth. We have a version of the X One wide single called the XDN2, an open-shoulder tire that has been used successfully in Yellowstone Park with eight feet of snow pack."
Walenga also knows fleets that switch tires seasonally. They move from open-shoulder drives to a more aggressive, closed-shoulder version in the fall. But, he points out, fuel-efficient tires normally have less tread. "You'll get better fuel economy, but you'll give up some life." n
2010 tech's extra weight can affect axle, tires
The addition of emissions controls may increase the weight of 2010 model and newer tractors by 500 to 800 pounds.
The added weight comes from the diesel particulate filter, selective catalytic reduction device and diesel exhaust fluid tank and pump, plus a larger cooling system. Weight increases so much that, depending on where components are located, the standard 12,000-lb. front axle is often being replaced with one that has a much higher rating, so that different tires are needed.
The load range G tires normally used would allow an axle weight up to 12,350 lbs., as each is rated for 6,175 lbs. at 110 psi. If running a heavier than normal axle, load range H 16-ply tires would be the choice. They'd allow an axle up to 14,000 lbs. Michelin's Don Baldwin says his company makes a 295/60R22.5-size tire that sustains a front axle weight of 14,600 lbs.
Tread by position
STEER
• Four or five straight solid ribs that will support lateral forces created during normal handling and cornering and by wind drag.
• Tread pattern design and a tread compound that's resistant to irregular wear in long/medium-haul service or that's cut-and-chip resistant for on/off-road service.
• Tread depth balanced to deliver long tread life while delivering low rolling resistance for higher fuel efficiency.
DRIVE
• Tread pattern design with closed shoulder (shoulder ribs) for long-haul service to prevent irregular wear and provide good handling.
• Tread pattern design with open shoulder (shoulder lugs) for regional operation, offering secure traction. Blocks in the central tread for all.
• Deep tread for long tread life, but a low rolling resistance compound for fuel economy.
TRAILER
• Shallow tread delivers longer life and low irregular wear.
• Strong solid shoulders for strong dragging forces and scrub.
• Special compound for low rolling resistance.