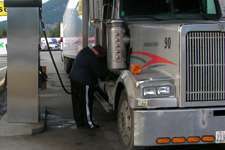 Due to surging oil prices brought on by Middle East turmoil, the national average retail price of diesel soared 14.3 cents to $3.716 during the week ended Feb. 28, according to the U.S. Department of Energy's Energy Information Administration. The price is the highest since Oct. 6, 2008, when it was $3.887.
Prices jumped in all regions. California soared to almost $4 a gallon, gaining 16.5 cents to $3.964. Excluding California, the West Coast rose 16.3 cents to $3.892. The average East Coast price climbed 14.4 cents to $3.764. New England increased 13.4 cents to $3.903.
Prices have advanced for 13 consecutive weeks. The national average price is 85.5 cents higher than the same week last year.
For state-by-state diesel prices, updated daily, click here.