Do regular inspections for a smooth ride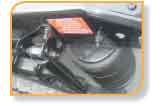 1. Drive for two miles, shut down and block the wheels. Feel every shock absorber. All should be warm to the touch. Check for oil leakage. Shocks that are nearly at outside temperature or that have leaks need replacement. Inspect rubber bushings at top and bottom of each shock. A minimal amount of cracking is acceptable, but if the bushing is loose, replace the shock.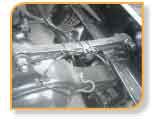 2. Inspect fasteners for rust where they sit against the frame or brackets. Rust means looseness. Re-torque to specification. Inspect all other bushings. Minimal cracking is acceptable, but loose bushings must be replaced.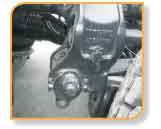 3. Check tires for unusual wear patterns. If present, have suspension alignment checked. Suspensions are adjusted at eccentric cams held in position with through-bolts like this one. Don't weld alignment adjustments, just torque properly.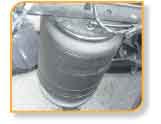 4. Inspect air bags and all fittings for leaks. Use soap and water to find small leaks. Inspect leveling valve linkages for loose or worn parts and make repairs as necessary. Check ride height – the distance from the bottom of the frame to the center of the axle – to make sure it is to specification. Clean out leveling valve exhaust ports. Clogging is the most common cause of malfunction.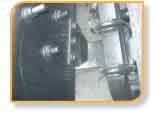 5. Check the condition of stops that support the frame if the air suspension fails. Replace damaged parts, and check bolt torque.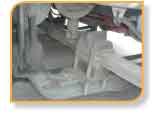 6. With front axle leaf springs, inspect U-bolt's condition and torque. Grease all spring pins (the bushings at the ends that allow springs to flex) on both leaf springs and air suspension leaves in the manner specified (with weight on or off the wheels). If wheels must be off the ground, suspend the axles on jackstands first.
NOTE
Repair procedures can vary widely, so consult the owner's manual for your truck or trailer to gather torque values, service intervals and all procedural details before inspecting or repairing.