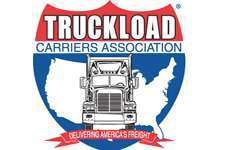 Paramount Freight Systems of Ft. Myers, Fla., was selected as the Best Fleet for Owner Operators in the Truckload Carriers Association Best Fleets to Drive For contest announced March 15.
Fremont Contract Carriers Inc. of Fremont, Neb., was selected as the Best Fleet for Company Drivers.
Best Fleets to Drive For is an annual survey and contest identifying the North American for-hire trucking companies that provide the best workplace experiences for their drivers. Nominated carriers are evaluated on the range and depth of offered programs, the overall effectiveness of those programs across key metrics, and the responses of surveyed drivers. The program is sponsored by the TCA, CarriersEdge and Marsh Inc.
Both companies received their awards as part of the TCA annual convention in San Diego.
Paramount stands out because of the exceptional way the company takes care of its independent contractors, TCA said. In addition to providing steady miles and home time, Paramount works with its owner operator partners by providing different insurance options at reasonable rates, quarterly surveys to collect input on the effectiveness of company programs and a "buddy" system that ensures a smooth transition for new contractors.
As the company's nominating contractor said, "They are a 100 percent owner-operator company that knows how to treat owner ops. Dispatch is pro-driver and gets it done. They have 120 trucks, and everyone I talk to gets the miles and home time they need and want."
A Best Fleets to Drive For winner in 2009, Fremont offers one of the most comprehensive bonus programs of any fleet in the 2011 survey, TCA said. Fremont rewards its drivers for mile production, customer service (on-time performance), fuel performance, minimizing out-of-route miles and company profitability. It balances compensation with strong driver/dispatcher relations, solid maintenance programs and continuing investments in safety technology.